Young Football Team Ready to Mature
More stories from Addison Dick
With few returning starters for the OPRF football team this year, the team is focused on taking this season one step at a time.  
"Knowing that we were going to have a young team experience wise, the expectation was for us to continue to work, to improve every week, and really learn from the previous game," head coach John Hoerster said.  "There's room for growth, and if we can learn from the previous week's mistake, I think we will be able to put ourselves in a good position as the year continues."
The team has started the year with a 4-1 (1-1 West Suburban Silver) record.  The opening game at Simeon went down to the wire.  The game got off to a rough start for the Huskies, as Simeon wide receiver Antwon Anthony returned the opening kick of the game for a touchdown and pulled ahead to a 22-6 lead at halftime.  
Despite the concerning start, Hoerster remained composed in the locker room at halftime.  
"We just emphasize with the team that it is a game that is four quarters," he said.  "Whether you're on a positive note or a negative note at half, whether you're up or you're down, there is still a half of football left, and we have to make sure that we finish strong."
"
I'm not going to measure the success of this season based on playoff wins… my hope for this team is bigger than just wins and losses."
— John Hoerster
"I don't think we necessarily started slow," said senior wide receiver Fred Brandstrader, "but we did not start as fast as we could have.  It's a very new and fresh team, so it just took a few games to get through that.  Now that we have played those games, we will be much better and stronger."
A strong rushing attack from senior running back Terrance Roundy and passing game led by senior quarterback Brian May helped bring the Huskies back into the game against Simeon.  After the Huskies came back and tied the game on a late touchdown pass from May to junior wide receiver Trevon Brown, the team was an extra point away from taking its first lead of the game.
Extra points and field goals were an issue for the team last year, and Hoerster reflected on the process that resulted in junior Henry Darrow becoming the starting kicker this year.  "The thing about last year is that sometimes it's hard to see.  A lot of times, it's just kind of the story and the headline that a kick was missed, and everybody just says the kicker must have missed it, but there's all sorts of things that go into a successful kicking game.
"This year, sophomore Toby Kunkel is our long snapper, and he's done a really good job.  Junior Aidan Shea is our holder.  It's a tough job, and he's doing great. That just allows (Darrow) to kick, and when he can just relax…he can do pretty well." Darrow drilled the extra point down the middle and the Huskies grabbed the opening week win.
Week two brought along another slow start against Downers Grove South.  "I don't know if it was just mental exhaustion from the week before, and getting back home and maybe feeling a little too comfortable that led us to start slow," Hoerster said.  The Huskies rallied in the fourth quarter of the game again, and the Huskies finished with a 21-17 victory.
The Huskies faced a challenging conference opener against Hinsdale Central in the team's third game. After a slow offensive start, Hoerster decided to put in sophomore Toby Kunkel at quarterback.  "Offensively, we just needed a spark, and sometimes getting a fresh face on the field can help.  It wasn't really a slight against (May), but more of an opportunity to add a different component to the offense," Hoerster said.  Kunkel's play helped the offense gain some momentum, but the Huskies were unable to close the gap against Hinsdale Central, losing 21-13.
Kunkel's impressive play reopened questions about the quarterback position.  "On one hand you have a senior (May), a captain, who's experienced as an athlete, not just in football, and has played in a lot of competitive environments," Hoerster said.  "Toby (Kunkel) has really impressed me with how quickly he has developed, just being a sophomore.  He's very mature and composed for someone his age, and he has a tremendous amount of upside and potential."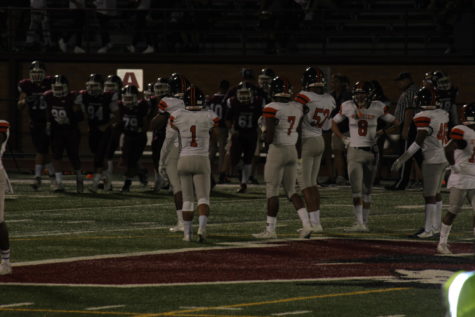 Both May and Kunkel split reps in the Huskies' 56-24 win over Morton and 44-21 win over Proviso West. Brandstrader noted the similarities and differences between the two quarterbacks.  "They are both very versatile quarterbacks. Kunkel's situation, being a sophomore and moving up, is very intimidating, and he's handling it very well, but May is in the same position because neither of them had made a varsity start before this year.  Brian (May) is very good at getting out of the pocket and scrambling with the ball, and Toby can see the field very well."
Brandstrader is looking forward to his final games for the team, and is proud of how the football program has changed him. "The coaches do a very good job on making sure that you stay focused, not only on the football field but in school too," he said. "They make you a better person. They make you realize that it's not just about football."
Hoerster agreed. "I'm not going to measure the success of this season based on playoff wins. For me, it's a group of players getting better together, developing good relationships, working hard, overcoming adversity, and hopefully, we will be able to stay together in November," he said.
"At the end of the day," Hoerster said, "my hope for this team is bigger than just wins and losses."