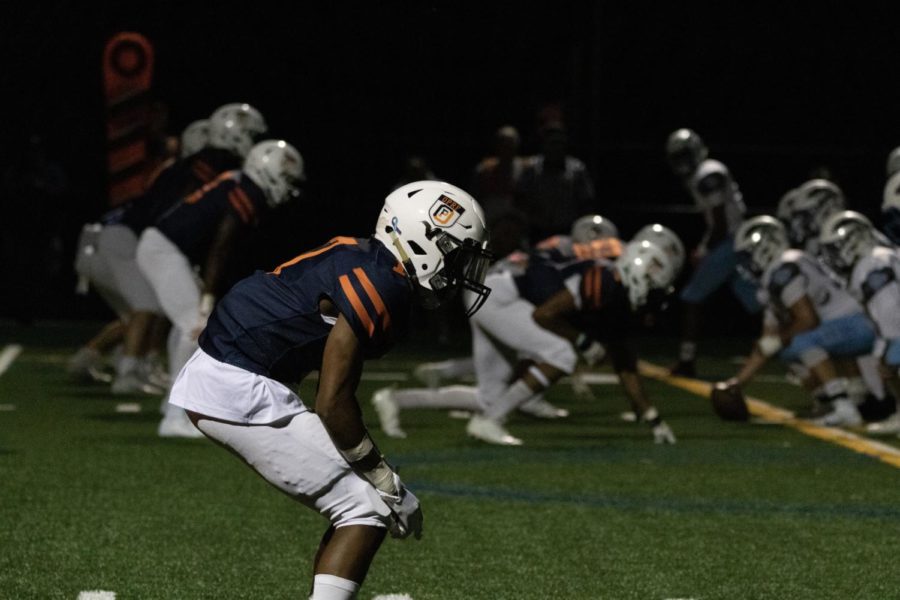 Holden Green
Football season is back and the OPRF Varsity team looks to reach the IHSA State Playoffs for the eighth straight season and defend their 2018 West Suburban Conference title.
However, their path to the playoffs looks more difficult this season, considering the fact that they are only returning six starters from last year's team. So far, this problem has come to light, as the team has started the season 1-3. After losing 23-14 to Waubonsie Valley week 1, and falling to Willowbrook 21-6 week 2, the team bounced back in week 3 when they beat Lions Township 23-13, but then took a step back by losing to Hinsdale Central 22-15.
On the offensive side of the ball, head coach John Hoerster said he believes his offensive line is the key to the team's success  this season, "The X-factor is our offensive line… We have some good skill guys; Jaden McGill is great at quarterback, Naz Bryant is great at running back, and we have some good receivers. But that only can work if the five guys up front can come together." When it comes to the offensive line, offensive line coach Nick Dalo has two returning players to work with: senior captain Fabian Gonzalez, and senior Luke Elwart. Beyond those two guys, coach Dalo will look toward John Valaika, Isaiah Ramos, Rigoberto Guzman, and freshman center Cole Roberson to step into starting roles.
On the other side of the ball, the defense has only two returning starters, senior outside linebacker Daemyen Middlebrooks and junior captain, defensive end Nahleyee Bryant. The team hopes these two guys along with the other captain, junior Jake Birmingham, will lead his defense this season. "He communicates really well with the younger guys, which is important," said a defensive coach, referring to Middlebrooks. "The role of him and the captains on defense is to communicate with us coaches… They're kind of the liaison between us, the coaches, and the other guys on the team to get the message across of what we need to accomplish."
One thing the coaches agree on is the importance of building trust among the guys on the team, so that every player knows he can count on his teammates, and in turn focus on his own job. When asked what he expects his team to struggle with this season, Hoerster claimed,"The inexperience is significant, but the trust. When it's a new group, you got to develop that trust as a team, and I think that we're not there yet… When they trust each other, and they trust themselves, and they trust the coaches, I think that's when you're going to see them really come into their own. Because they're so new and inexperienced, that doesn't happen overnight."
"We got guys trying to do multiple things, which never goes well. That's why we've lost a couple of games. We got to understand that it's a team sport, and we're not there yet, so the communication, the sense of community, that all needs to improve if we're going to get back on track," the defensive coordinator said. "When we have it (trust), we tend to play faster, so when you can just focus on one thing, you tend to be free, and not have to think, and not be concerned. But when you have multiple things, you tend to overthink, and over-analyze, and with the athletes that we have, that's the worst thing we can do for them is to have them be thinking out there."
When asked about how he can build trust among his team, the defensive coordinator explained, "It's a hard thing to do… We got to put our players in positions in practice where they have success, where what we're teaching them, or the drills we're doing are going well."
The key, Hoester said is, "Being around each other, learning that I can count on that guy next to me, and they learn that they can count on me, and we learn we can count on the coaches and the coaches can count on us."