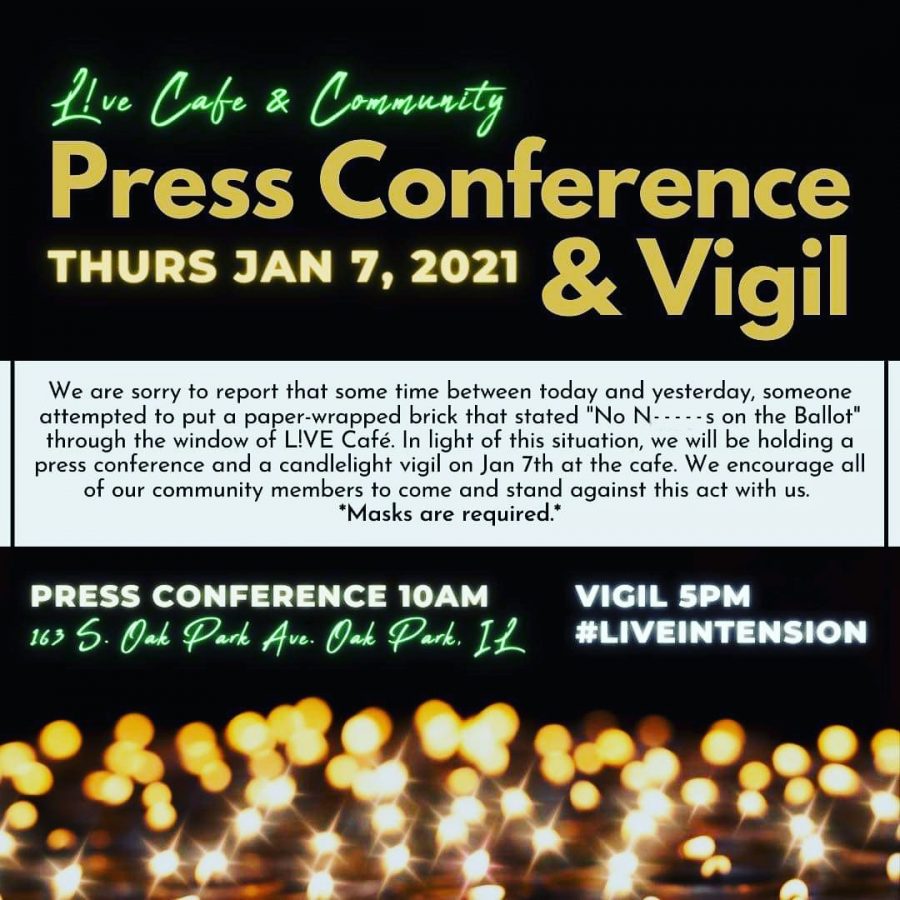 On the morning of Jan. 6, Reesheda Graham Washington discovered her Oak Park L!VE Cafe was vandalized overnight. A brick had shattered the glass of the black-owned cafe with a racist message written on it: "No n— on the ballot." This attack was a week after objections were filed against the only two black candidates, who have headquarters at L!VE Cafe, for the April municipal election. It also took place the same day as the Capitol insurrection.
Washington has a close connection to the candidates who were targeted. "They're my colleagues and my friends," she said. "I think this was a traumatic hate crime that permeated the entire community," she said. She has not experienced racially motivated incidents "of this caliber" at her café before. "It harkens back to a day when throwing bricks through storefront windows was prevalent for the black community," she also said.
OPRF Teacher Anthony Clark is a candidate for village trustee headquartered at the cafe. He found out about the attack while at the DMV. "I received a screenshot of the picture of the brick and a text message from Reesheda saying that her business was targeted."
"Was it coincidence that it was on the same day as the capitol domestic terrorist attack, the riots? I cannot say, but it definitely coincided with the first date of a hearing that was being held for myself and Chibuike Enyia in order to get on the ballot to run for office," Clark said. Enyia is also a candidate for village trustee.
The attack also happened around the highly consequential Georgia Senate runoffs, where Democrat Raphael Warnock, an African-American, defeated the incumbent senator, Republican Kelly Loeffler (R) and became the first African-American Senator from Georgia, and the 11th African-American in the Senate ever.
Several racially inflammatory attacks have taken place in the Oak Park community in recent years. In 2018, there were a string of racist incidents at OPRF, including graffiti with the term "white power" and swastikas and an incident in which someone AirDropped a picture of a swastika to people at an assembly. More recently, some OPRF classes experienced racist and anti-Semitic "Zoom-bombings" in December 2020. A man repeatedly vandalized a mural in Forest Park saying "No Human is Illegal."
Washington said she was "very taken aback" by the attack on the café. "I was very horrified by the experience, but also I am the type of person who relatively swiftly goes to 'What can we do to salvage what has been done here? Where is the room for growth and restoration?'"
Hundreds of people showed up to a vigil that was held the night of January 7 in response to the attack. Washington, Clark, Spiro Papageorge, the owner of a nearby restaurant, and Cate Readling, an candidate for Oak Park Village President, spoke at the vigil. Taylor Montes-Williams, a sophomore at OPRF, and a member of the Revolutionary Oak Park Youth Action League (ROYAL), found it "very moving," and said "I felt a sense of community." While "it was really nice knowing that that many people were there, especially for Reesheda," it reminded her that "this is something that black owned businesses really have to face."
"The community has overwhelmingly been supportive and they're intentional in the ways in which it has responded to hate with love," Washington said. She has been given food and flowers from community members, as well as messages of support. People wrote supportive messages that went on the front windows of the café.
A GoFundMe was set up on Jan. 6 by former OPRF student Aaron McManus following the attack. "Because of his very intentional allyship in galvanizing the community, we've raised over $25,000 to continue to do the work of obliterating (racist) behavior," Washington said. "This fundraiser supports (Reesheda) Graham Washington and Live! Cafe and will be used to help drive the mission of anti racism in this community and beyond," the GoFundMe page says.
"I feel like we need to stop shoving things under the rug," Montes-Williams said. "People wait too long for situations to escalate before doing something about it and I feel like we need to listen to those little whispers of when somebody's asking for a change to be made or for an expectation to be met."
The cafe is currently open Tuesday-Saturday from 10 am to 3 pm. You can find them online at https://livexclamation.com/.