Student athletes sign on to their next chapter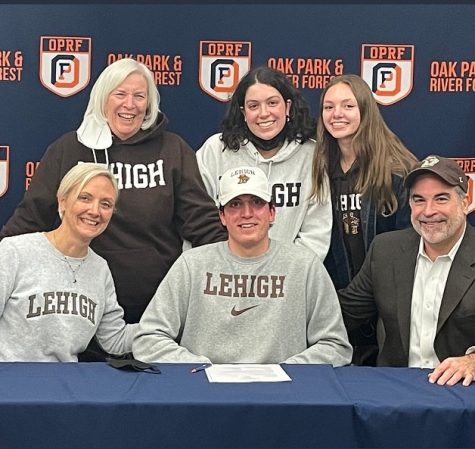 Signing day is a major step for athletes in their careers. Before signing their national letter of intent, athletes make a verbal commitment to a school of their choice. Verbal commitments can be retracted while the signed letter is a legal document that cannot be reversed.
OPRF athletes were surrounded by friends, family, peers, and coaches when they made the life-changing decision to sign their national letter of intent on Nov. 16.
Due to the COVID-19 pandemic, the process of committing was different this year. Senior David Andolina, who is committed to Lehigh University for baseball, said, "It was weird. Usually, one goes in person to see schools, but because of COVID-19, schools sent virtual tours and videos."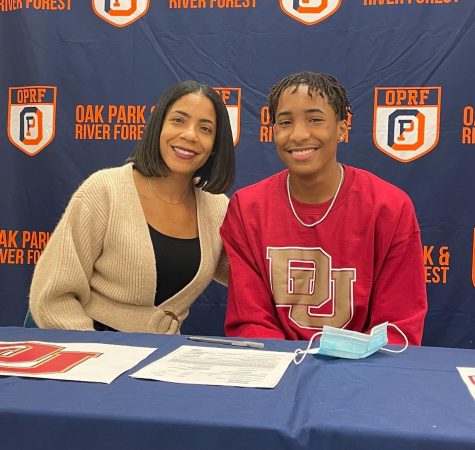 Missing out on playing time and practice was another side effect of the pandemic. Senior Tiala Ortega, who committed to DePauw University for field hockey, said, "For a whole year, we missed tournaments, showcases, and clinics. That was during my sophomore and junior year(s), which is really prime time for recruiting and when coaches really start to show interest."
Student-athletes put a lot of work and effort into preparing and deciding which school to commit to. Often, multiple schools court an athlete hoping to win them over. Andolina was approached by Cornell, the University of Pennsylvania, and Davidson College. Ortega's top three schools were DePauw University, Kenyon College, Franklin College, and Marshall College. "It's a big decision, so of course it was stressful, but it was also exciting," Ortega said.
Athletic Director Nicole Ebsen was in charge of organizing this year's signing day. "I am not involved in the decision-making directly. I will help guide students and their families through the process, but ultimately, they will make the decision that best meets their needs," said Ebsen.
New to OPRF, this was Ebsen's first signing day here. "It was such a great experience, and I cannot wait to continue to celebrate our Huskies at the next signing day in February," she said.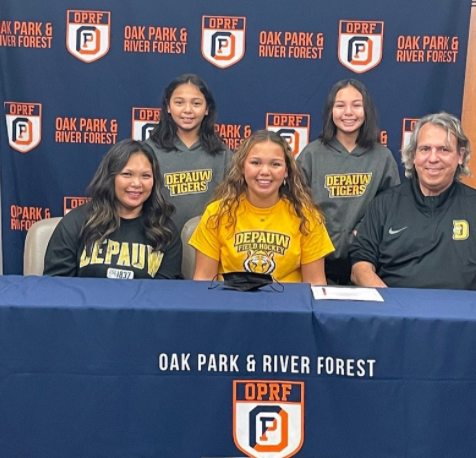 Motivation, as well as encouragement, from others can be critical to athletes success. "I had a lot of support from my parents and coaches when deciding to commit," said Ortega.
Sports are a critical part of these students' lives. "Being a team player is super important in life in general and sports have taught me a lot of lessons," said Ortega. 
"Signing day is the pinnacle time for an athlete. My hope is that they have a fulfilling experience playing at the next level and that they can forge an even deeper appreciation for their sport," said Ebsen.
Leave a Comment