A page out of Nola's book: a book lover's case for reading
"A reader lives a thousand lives before he dies . . . The man who never reads lives only one." – George R.R. Martin 
The smell of freshly printed pages overwhelms me as I enter my local Barnes and Noble. I am hungry to read but don't know where to start. I'm distracted by the books stacked floor to ceiling style, the crackling fireplace in the mystery section, and the screaming kids getting excited for story hour. 
I wander about the young adult section and find hundreds of books I want. I beg my mom to buy me a book, then another, then another. 
She's hesitant to allow me to get books because I've never been a reader.  As I walk to the checkout I feel inspired and smarter from just reading the back of the books I promise I will read. 
When I got home, I glued myself to my first book. I read all night and finished it by second period at school the next day. 
While reading is a task to others, to me it is a luxury. While reading I feel smarter and I can implement what I have read into my own writing. I often wonder why I did not pick up reading earlier; just this month I have read four books. 
Picking out a book is one of the most exciting things I've experienced. Colors of covers are carefully selected to enthrall me to walk deeper into the aisle of books. 
Reading is just like watching TV. Each episode is a chapter; each page a new scene. 
At home I choose which books to read. At school, however, books are chosen for me. Assigned reading topics are usually bland or extremely outdated. 
Unfortunately, many people do not like to read because they associate it with school and boredom. So many people feel this way about reading that it means 43 million U.S. adults possess low literacy skills. Many people stop their reading journey as soon as they close their books and pack up for their next class.
 My own thoughts about reading were originally very similar to my peers. I understand how many of them think reading is boring. All most people have been exposed to are books at school, many of which have been written centuries ago.  I knew there had to be more to reading than I saw, since my mom is an avid reader.
Through the pandemic, I found myself picking up books because my life lacked human connection. I read stories about people who enjoyed doing the same things as me, and it made me content knowing people in these stories could do stuff while we could not.
Reading in schools should be fun and get students to want to read during their free time. Finding a book at your local bookstore or library should be as exciting as it is beneficial; it actually only takes 10 minutes a day of reading to improve reading skills, notes Words for Life, a United Kingdom-based charity whose mission is to give disadvantaged children literacy skills.
¨Did you read last night's chapter of ´Hamlet´?¨ is a sentence I dreaded hearing in my sixth period English class. 
I would avoid solving the Rubix cube of Shakespeare's language the night before class. Instead, I would read the Sparknotes version and hope I had a good enough understanding for class. 
This was not just my story, either. Many people I know do not like to read Shakespeare because they find it misogynistic and irrelevant. 
Meanwhile, reading for fun gives you a better insight into the world. It is proven you become more intelligent when you read. In a January 2014 article in The Guardian, reporter Dan Hurley describes how reading only comic books helped him to become a straight A student. ¨Reading increases your crystallized intelligence,¨ Hurley wrote. I believe this is true because after reading what I actually like and can retain, I find myself using more complex vocabulary when speaking and my grades in reading and writing have skyrocketed.
While reading you get attached to characters; you feel as if you really know them. For example, in one book I read, the main character wasn't allowed to go outside because she was allergic to everything. When I found out more about her I could relate to some of the small things in her life and form my own opinions about what she dealt with.  
More times than not I find myself picking up a book and actually laughing out loud because of how real I imagine the characters. If you give reading a chance, you will find it can be just as entertaining as watching an episode of your favorite show.
Nola Recommends…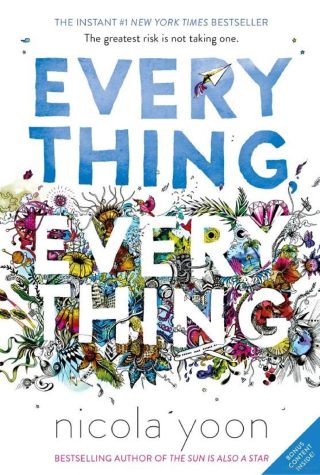 ¨Everything, Everything¨ by Nicola Yoon is a great book to start with if you want to get into reading. Even though this book is now also a movie, there are so many details in the book that the movie lacks. This book has many plot twists and is not your average love story. Maddy Whitter is allergic to everything, is not allowed to leave the house under any circumstances. She ends up falling in love with Olly, her neighbor who she can see through the window. The characters in this story are very real. If you are interested in an action packed, suspenseful, and emotion filled book, I would definitely recommend it.
"Red, White & Royal Blue" by Casey McQuiston is a New York Times bestseller about the illicit relationship between Alex Claremont-Diez and Prince Henry. If you are looking for an LGBT love story, this is a very good one built on the idea of triumph over stigma.
View Comments(1)