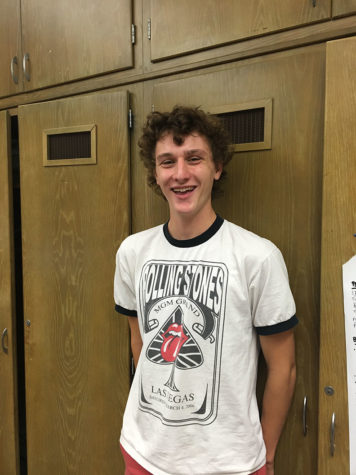 Evan Beebe walked into his sophomore english class filled with nerves. However, it was not the average english class. It was the class his sister recommended. British Literature and Journalism, taught by Ms. Fox. His nerves were somewhat eased when he walked into class and saw many friendly faces, several of whom are fellow editors now. However, he knew it would not be easy because he did not have much previous experience with writing stories in general.
Beebe had his first experiences with writing stories in his sophomore english class. so the road was not smooth. "My writing was not very good, especially at the beginning of last year," said Beebe, referring to his time as a staffer. Because of this, Ms. Fox encouraged him to take advantage of a summer program at Indiana University that would help Beebe with his writing skills.
This past summer, Beebe went to a journalism camp for sports writing at Indiana University. He worked on his interviewing skills with the assistant volleyball coach at IU to create his final piece. Beebe believes the camp helped  him and he now says, "I try to be comical...I also like writing with a lot of imagery." At the same time, Beebe is very honest and critical of his own writing. He believes he will always look back on his work and find room for improvement. Beebe's sister, Isabel,  was the Managing Editor of the Trapeze. She has influenced him on his journey through journalism. Beebe knows "she wrote important things, specifically in arts and entertainment" and he wants to as well, even if the styles and topics are different.
Originally a two person job for this school year, Beebe will take on the position of sports editor himself and he is ready to tackle all the challenges that come with it. Beebe is also excited about writing "profiles because they focus on individual success and they can be more relatable to readers." As the sports editor, Beebe will have his own column. He thinks column writing is fun because "It is pretty much your opinion, you take a stance on things." 
His mindset has allowed him to develop a lot since his sophomore year. He is now the Sports Editor of Trapeze, president of Dudes Making a Difference, and a starter on the OPRF Varsity Boy's Volleyball Team.  To become the Sports Editor, Beebe had to "do an interview, put in an application, and make his own page layout." However, Beebe believes it was "definitely worth it." His journey has proven that underdogs can come out on top.
Evan Beebe, Sports Editor
Mar 24, 2017

Benchwarming with Beebe: March 2017

(Story)

Feb 27, 2017

Bench warming with Beebe: February 2017

(Story)