Iv McCoy
, Contributor •
November 29, 2022
Hey! It's me Iv, and I'm going to talk about depression—but, not just any kind of depression: teen depression. Since we are teenagers, most...
In a fit of nostalgia, I recently tried to log back into my old Minecraft account, unfortunately to no avail due to some technical difficulties....
One night I ran out of my hot oil treatment for my hair, and it dawned on me: since I moved from Austin Boulevard closer to the high school I'm...
It was a rainy, windy day on Nov. 5, and the cross country course at Peoria's Detweiller Park was raked with mud. Senior Liam Newhart was barely...
The boys' basketball team is working hard to prepare for its game versus arch-rival Fenwick. Oak Park and River Forest High School will...
The Chicago Bears aren't winning football games. As of Nov. 14, the Bears are 3-7 and have lost six of their last seven games. They sit...
After 12 years of planning, Oak Park and River Forest High School is beginning to phase in an integrated way of teaching math. Currently, OPRF uses the standard American curriculum system: Algebra 1, Geometry and then Algebra 2. The new system would take students through Math 1, Math 2 and Math 3. Each level would incorporate a variety of topics such as algebra, geometry, trigonometry and statistics. OPRF...
The Illinois State Board of Education named Oak Park and River Forest High School "exemplary'' in October, putting the school in the top 10...
Varsity swimmer Emmett Harmon takes a lot of pride in swimming in Oak Park and River Forest High School's West Pool. ¨I think that it's...
Anticipation spread through the football stadium on Sept. 30 as the crowd waited to see which of 10 candidates would be crowned homecoming royalty.
Two music clubs are joining forces to provide more opportunities for students interested in making and reviewing music. The collaboration is...
Sorry, there are no polls available at the moment.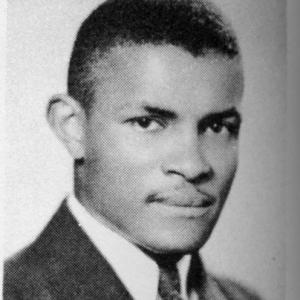 When faced with a challenge, that is when someone's morals become clear. That was the theme of "The Ebony Streak," a staged reading of a play that premiered Nov. 6 in Oak Park and River Forest High School's Little Theater. "The Ebony Streak" was written by Kevin Bry, an OPRF alumnus. Based on real events, "The Ebony Streak" tells the 1937 story of when Lewis Pope, a 17-year-old African-American football player at OPRF, wasn't allowed to participate because of his skin color. In 1937, OPRF was offered a chance to play the High...