OPRF rings in new bell schedule
At the start of the school year, students were introduced to a new bell schedule and a cutback on advisory days. Now entering the second quarter, some students and staff have acclimated to the new schedule, while others prefer the old.
Oak Park and River Forest High School now has three bell schedules: a no-advisory schedule for Mondays, Wednesdays and Fridays; an advisory schedule for Tuesdays and Thursdays; and a late-arrival schedule for late start Wednesdays.
Last year, students had the same schedule, which included an advisory period, every day, except for late arrival Wednesdays.
The issue was discussed at the school board meeting on Sept. 22. The Board Briefs summary sent out after the meeting said, "Students have felt there has been quite a bit of confusion with the bell schedules." The board brief later stated, "students do miss advisory on Mondays and Fridays, and would like to see this return."
Senior Amanda Lane has always loved advisory, seeing it as a time she can "look forward to" each day. Lane further explained advisory is a time where she feels she and her classmates read the Daily Bulletin, find out about college callers and learn about activities.
"Less advisory negatively affects us" because "not everyone checks their email or listens to announcements, which leads a majority of the student body unaware of daily news," said Lane.
Student Resource Center Monitor Maddy Dossey has been working at the school since February 2021, beginning as a long term substitute for the math department. She has experienced both the old schedule and this year's three new ones.
For Dossey, the switch of schedules was challenging in the beginning of the school year. "It was three schedules. It was kind of a lot going on," she said, adding that she would sometimes feel confused as to which time the period ended or began. However, she said "we've all kind of gotten used to it."
"It's a learning curve," she said.
English teacher James Bell said he misses daily advisory, calling it a chance to have "meaningful interactions with students that didn't involve grades." Advisory was a separate time for him to connect with his students, have lighter conversations and communicate more simply.
As the school year continues, it remains to be seen if the controversy on new schedules and advisory will persist or whether the community will be able to fully embrace this change as a new norm.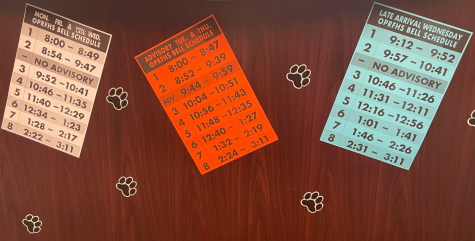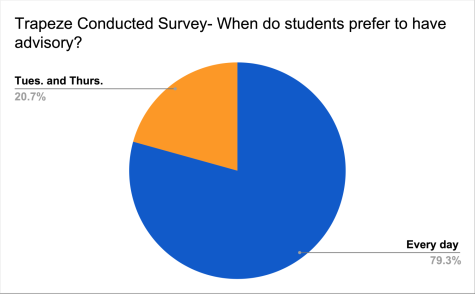 Leave a Comment