Chicago comes together to march for science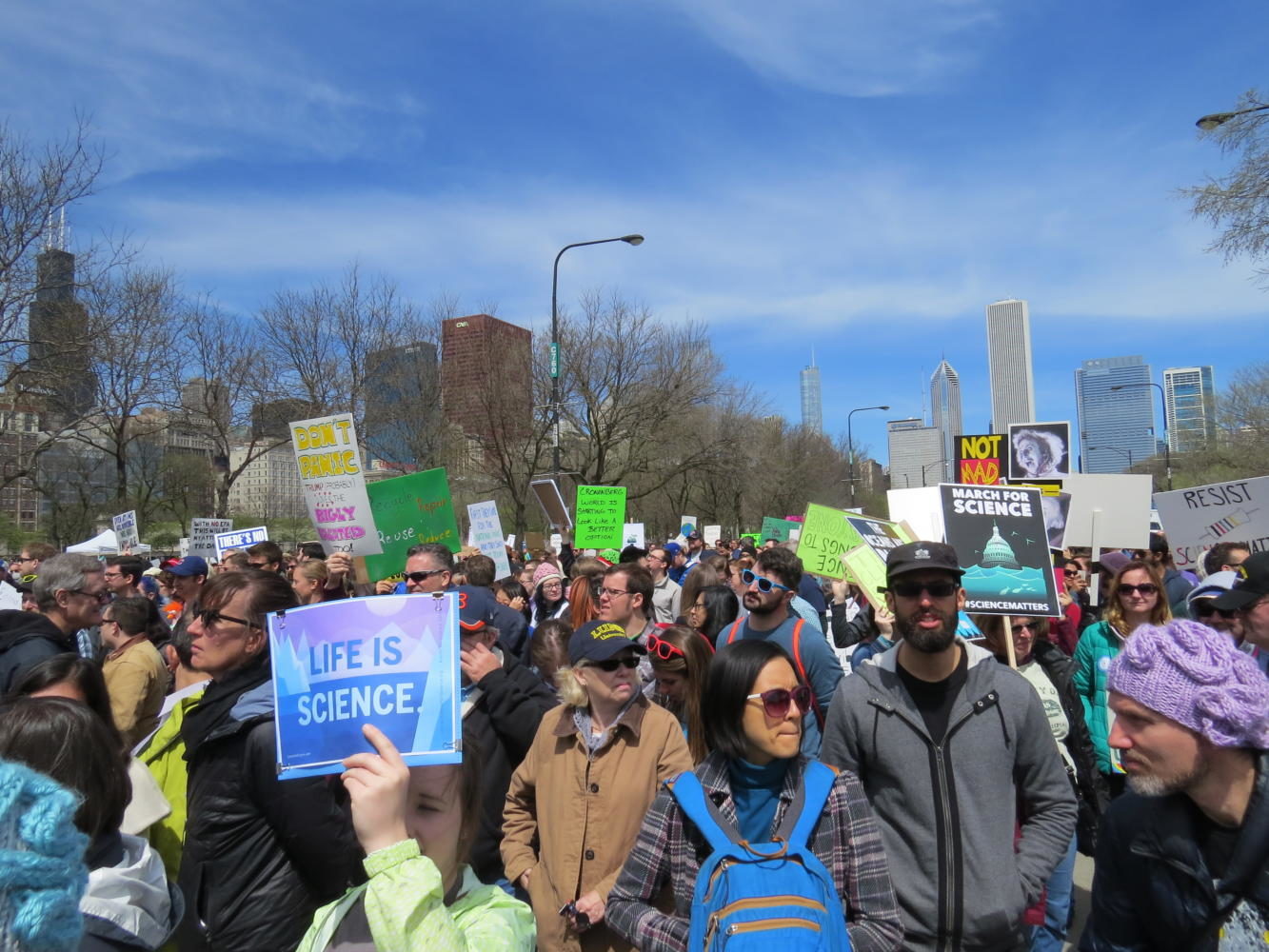 Cole Tamondong, Tech Editor
May 16, 2017
Neil DeGrasse Tyson once said, "The good thing about science is that it's true whether or not you believe in it." When President Donald Trump was elected, the scientific community was immediately struck with deep anxiety about the future of science in the United States. Trump, who openly denied climate change during his campaign and has also hinted that he believes vaccines cause autism, seemed to pose a new, greater threat to a scientific community that had already been doubted by other politicians and some of the populous at large.
In response, marches were planned nationwide and across the globe. On April 22, Earth Day, people from more than 500 cities in 16 countries and five continents came together to promote and celebrate science. In Chicago more than 40,000 people and 600 volunteers took to the streets to speak out for scientific facts.
Besides the march itself, organizers held a rally in Grant Park featuring speakers like Karen Weigert, Chicago's chief sustainability officer, and Emily Graslie, the Field Museum's chief curiosity correspondent and creator of the Youtube channel "The Brain Scoop."
From there, the 40,000 strong crowd marched down Columbus Drive to the museum campus for a science expo featuring booths from organizations such as the Alliance for the Great Lakes, the Chicago Astronomical Society, and the Chicago Zoological Society.
"It feels a little surreal to have to march about support for facts," senior Mira Rauch said. "I felt compelled to go because I am a future biology major, and the current administration is taking away jobs and resources from people like me. Additionally, climate change and other global issues won't go away if choose to ignore them or take away funds from people trying to help."
Trump's proposed budget plans to slash or completely remove funding for major grants, programs, and agencies connected to protecting the environment and promoting scientific advancement, including the Environmental Protection Agency (EPA), the UN's Green Climate Fund, National Oceanic and Atmospheric Administration grants, and the Clean Power Plan. In addition to the drastic cuts, Trump appointed Scott Pruitt, an open climate change doubter, to lead the EPA.
"Peaceful demonstrations like this are a great tool of democracy that Americans have," said Rauch. "We should use it to make statements, especially when the statements are 'I care about science' or 'I care about women.' And when thousands of people show up to make a point, hopefully lawmakers get the message."