New nursing program gives students hands-on experience
Jane Belcaster, Staffer
September 30, 2017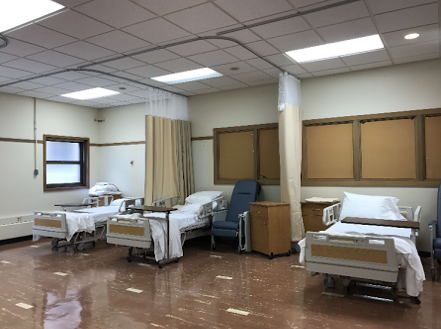 As Erin Wavrek approached senior year, panic set in when she realized she hadn't fulfilled her applied arts requirement. Word was going around of a new nursing program being offered through the school, and it immediately drew her in.
A few years prior, a man close to Wavrek's family passed away. The only people able to support him day through night were nurses. His nurses made the last few months of his life as comfortable as they could and it inspired Wavrek. When Wavrek found out the Nurse Assistant Program was offered as an applied art, it felt like everything was coming together.
"This class is unlike any other class I have taken at OPRF," said Wavrek. "It is more of a hands-on experience and I prefer to learn by doing."
Nurses Jaclyn Thompson and Petty Melgar Hooks co-teach. Days in class are split between lectures, lab times, and clinical visits to a nursing home. "The skills students learn range from hand washing to taking blood pressures and giving baths," said Thompson. "At the nursing home, the students will provide care to one or two residents using the skills they have learned in both lab and lecture."
Although the course is called the Nurse Assistant Program, it is not restricted to students set on entering the healthcare field. "I think someone can take this class just to learn how to be compassionate for others. It definitely is a class for everyone," Wavrek said.
"This course allows students to try out the health care field without committing to a full-length college program," Thompson said.
"Regardless of a student's end goals, whether it be nursing school, physical therapy, or something unrelated to health care, they will have the skills to work a job with decent wages and flexible hours as a full-time career or a way to make money during school," Thompson said.  "I would have loved something like this course when I was in high school."