Soccer Wins First Conference Title in Decade
The stadium lights were on, the rain picked up speed by the second, and the boys' soccer team took to the field looking to claim a conference title for the first time since 2007. Fans dressed in raingear and huddled under umbrellas did not fail to support the highly ranked Huskies.
It was Oct. 10, and the OPRF Huskies were hosting the Hinsdale Red Devils. The Huskies were losing 1-0 at halftime. The rain began to slow down as the Huskies quickly took control of the third quarter. "Everyone was nervous because conference was on the line," said junior James Maguire. "We really needed a goal while we had some momentum going for us."
Maguire, one of the team's captains, took the ball downfield, picked his spot, and fired a shot on target. The ball reached the back of the net, and the whole stadium erupted into cheering. "Right after I scored that goal, I knew we could go on to win the game."
"
They are more mature and have a better mindset for what varsity soccer is."
— Jason Fried
Maguire's goal gave the players and supporters a much-needed boost of energy. "Everyone was feeling wet and cold. Once we tied it, our team really sparked up," said junior Brody Bliss.
Shortly after OPRF scored its first goal of the game, the Huskies took advantage of a corner kick given to them.
The Red Devils' defense left Bliss wide open, allowing him to head in Andrew Barkidjija's kick.
"Andrew played a great ball and I was able to put in the first header goal I've ever scored," said Bliss.
The goal gave the Huskies the lead for the first time in the game. "We wanted to come out after half and get a quick goal and we ended up getting two," Bliss said.
The Huskies went on to win 2-1. The victory put OPRF atop their conference with a 14-3-1 record. With tough competitors such as Hinsdale Central and Lyons Township, it was the first time in 10 years the Huskies came out on top.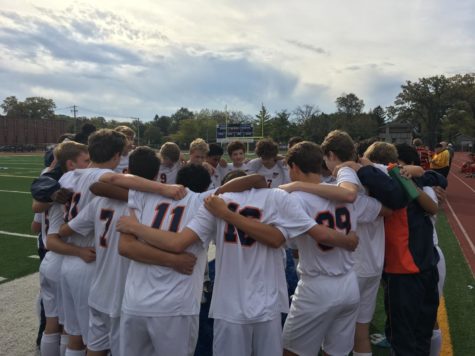 "This year our team has experience," said head coach Jason Fried. "They are more mature and have a better mindset for what varsity soccer is."
Throughout the season, the Huskies have asserted dominance by making key plays and winning tough matchups. "Beating Lyons Township and Hinsdale Central was huge for the program," said Maguire. "Those teams are traditionally the biggest powerhouses in our conference."
The Huskies showed significant improvement from last year. A key factor to their success was the chemistry they cultivated. Their talent, camaraderie, and "unselfishness," as Fried said, earned an impressive record and the conference title.
Leave a Comment