Shakespeare Club raises the bard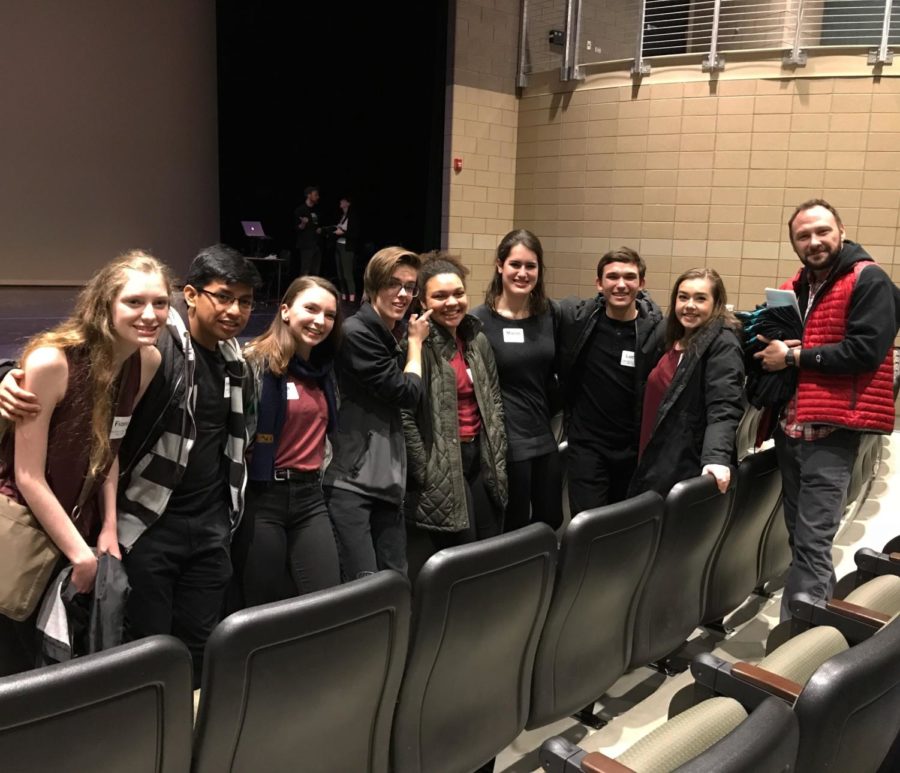 Most high schoolers don't have a Shakespeare monologue in their back pocket. However, seniors Oskar Westbridge and Erin Sullivan don't just keep Shakespeare in their pockets, but are ready to perform his words in front a few dozen people.
Westbridge and Sullivan are a part of Shakespeare Performance Competition Club. Together, they work to make Shakespeare modern and accessible for every student. "The club is actually new this year," Sullivan said. "In years past, it has only been Shakespeare Slam Team and that's it, but this year there's a lot more activities and it's more organized."
Sullivan is the club president. "Since it's our first year as an official club, it's been my responsibility to figure out the role of president for the club," Sullivan said.
"The club consists of eight performers and two student directors/understudies," Westbridge said. "I am a performer within the club, which means that is is my job to perform the actual Shakespearean text that we create."
The club is sponsored by James Bell, who teaches a Shakespeare class at OPRF. "Mr. Bell is the advisor for the club, but it's mostly student run," Sullivan said. "The slam team members choose the scenes as well as write ones of our own for competition. Of course, we receive some guidance from Mr. Bell, but he really wants it to be more of a student-led club."
No experience is necessary for Shakespeare slam team. "Literally anyone can be a member of Shakespeare Performance and Competition Club," Sullivan said. "You have to audition for slam team, but for the club itself, you can come to any of the open meetings and participate. I got involved in the club last year because a few of my friends were auditioning of the slam team and they told me to audition."
"I would recommend it if you enjoy Shakespearean acting or even just talking about Shakespeare," Westbridge said. Even "if you despise Shakespeare or his plays confuse you, it is a really good place to learn to read, interpret and eventually perform his text."
For Shakespeare lovers and haters alike, Shakespeare Performance Club makes Shakespeare enjoyable for various audiences, Sullivan and Westbridge agreed.
"I think the club is really important for Shakespeare's legacy because it gives his works a modern twist, as well as getting them up on their feet," Sullivan said. "Understanding Shakespeare takes a bit of work, but I think of it as trying to understand slang from when your parents were teenagers. You can ask people who are knowledgeable about Shakespeare or even look up your questions on the internet."
"You know Shakespeare is well done when not only the actors understand what they're saying, but the audience also understands what the actors are saying."
To Westbridge, there's still hope for people confused by Shakespeare's Elizabethan lingo."Shakespeare has a reputation of pretension, and a lot of people think his plays are boring or hard to understand," Westbridge said. "But SPCC is open to anyone, meaning that anyone who is interested (in) learning about Shakespeare can attend and even perform Shakespeare."
Sullivan agreed that anyone can enjoy Shakespeare, especially teenagers. "Shakespeare really wrote for people our age. The life expectancy back in his time was not great, so younger crowds are really the target. His works can truly be interpreted in infinite ways," Sullivan said. "Chicago Shakespeare Theatre just put on 'Taming of The Shrew,' thought to be Shakespeare's most sexist play, but they put it on in the form of suffragists performing the play in the midst of the 19th Amendment being passed. You can mold Shakespeare into whatever you want with a great imagination."
Sullivan has a message for anyone unsure about joining Shakespeare Performance Club. "Do it. There's honestly nothing to lose in getting involved in Shakespeare. Getting involved doesn't mean worshipping Shakespeare. He was a flawed person, as is everyone. And that makes it all the more fun."