Athlete in Focus: Dashon Enoch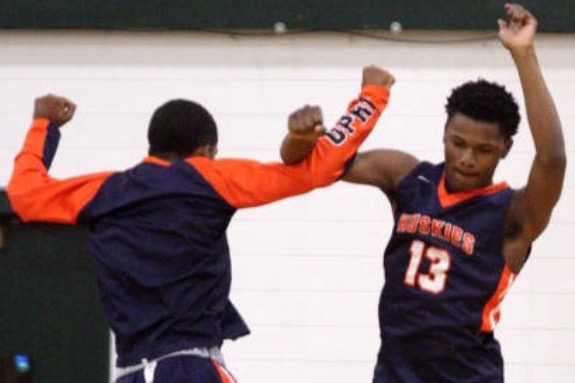 What could have been a mundane experience at a middle-school basketball game was life-changing for junior Dashon Enoch.
"I used to always go to (my brother's) basketball games, and it just looked so fun," he said. He wanted to follow in his "big brother's" footsteps—so he did.
Three years later, as a sixth grader at Gwendolyn Brooks Middle School, Enoch joined the basketball team. "I wasn't that good in sixth grade. I didn't even get much playing time," he said, "but I remember sitting on the bench and thinking, 'Dang, I can't wait to get out there and play.'"
Now in his junior year of high school, Enoch has spent three years as a varsity basketball player, exchanging his bench warming position for a starting one. "That's a huge difference, going from eighth grade to varsity," he said.
The bridge from middle school basketball to the high school varsity team isn't one that many cross. During his first year, he was the only freshman on the varsity team. "I'm not sure if it's normal," said Enoch. "There's maybe only been a couple people to do it (who) I know of at OPRF."
"I have known (Enoch) since sixth grade," said senior varsity player Isaiah Fuller. Both of their brothers played for the Brooks basketball team. Fuller said he figured that their friendship would only last as long as their brothers played together, "but now he is basically family to me."
In those years of friendship, Fuller said he has "definitely seen (Enoch) grow. He has gotten so much more comfortable doing things on the court and becoming a leader."
Enoch said "hard work" has brought him to where he his now. His freshman year, he would always go to varsity open gyms with his brother, a senior at the time. "I guess I was just holding my own, so they put me on varsity," he said, laughing.
"Literally, every day I play basketball, I work out, go for a jog, something," Enoch added. He also said he attributes "everything" to his father, who has been in prison since Enoch was 1. "He tells me that everything happens for a reason… and that everything will be okay."
Last year, the team lost to Whitney Young in the sectional finals. This year, they won the West Suburban Silver conference title, going undefeated in conference play. "I contributed by being a team leader," said Enoch, "doing the little things that coach needed me to do and always bringing energy and playing hard."
He hopes the team goes farther than the sectional finals this season. "This year, I'm really playing on a special team," he said. "I love everybody on my team this year. They're all my brothers."
Reflecting on the years since his middle-school benchwarming, Enoch hasn't changed much. "I've literally grown an inch," he said. But now, "I'm a smarter basketball player. I was stronger than mostly everyone in middle school basketball, but then freshman year, I wasn't. I had to try really hard to use my skill and be really smart."
Though his skill has changed through the years, his passion for the sport has never waned. "I just love basketball," Enoch said. "It has opened up so many doors and given me so many different opportunities in life. I've met new people and made lifelong friends. If I didn't have basketball, I don't know what I would be doing."