Enviro/Bio Teacher's "Underwater Adventures"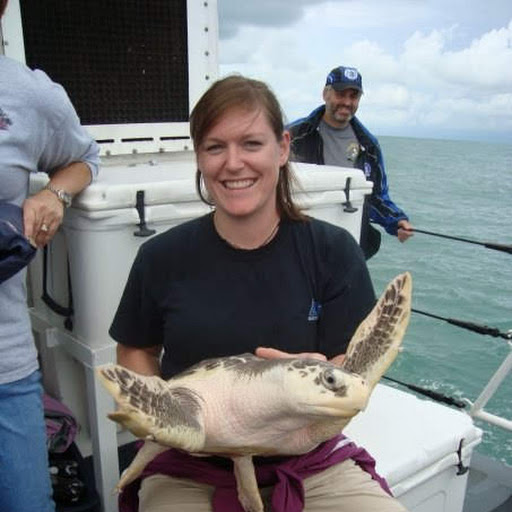 Hang on for a minute...we're trying to find some more stories you might like.
Kelsey Kaiser has been trapped in a tank with adult tiger sharks. The OPRF biology and environmental science teacher has rehabilitated young sea turtles, travelled across the nation working at various aquariums, and learned about all sorts of ocean-dwelling animals. According to Kaiser, it was what she had always wanted to do.
Kaiser grew up with a mission on her mind.
"I was always interested in science. I initially wanted to be an astronaut, but that went away when I realized we weren't going to the moon anymore," she said. "When I was 8 or 9, we went to Sea World, I saw the Shamu show, and I was focused on that completely. So I essentially just did whatever I could to get involved with animals."
As a teenager, Kaiser started down the road to working with marine animals.
"In high school, I was really interested in learning how to work in a zoo or aquarium. I did a lot of zoo camps, started going to career days at the Minnesota Zoo, and one day there was a pamphlet for the MSU zoo and aquarium science program."
Kaiser had been looking at colleges on the coast, including University of Miami, but Michigan State's program intrigued her.
"So I sent MSU some info and they invited me to come to a scholarship competition. I ended up having a meeting with the advisor of the program, who explained to me what the program was like, the opportunities I would get. Miami was more of a research path, and I wanted to work with animals right away instead, so I ended up going to Michigan State instead."
In college, Kaiser pursued internships that would help her reach her goals. She initially wanted to work with marine mammals such as whales, but eventually shifted to a more generalist approach.
"I did an internship at the aquarium in Minnesota called Underwater Adventures," she said. "At that point, I still really wanted to work with marine mammals, but I didn't really push for that internship. My advisor basically set that up for me. That summer I interned as an aquarist, and it was at that point that I (knew I) really loved doing this, and decided, I don't really need to work with whales or dolphins. Then, the summer of my junior year, I worked at the aquarium, got more work experience, and graduated December of my senior year, a semester early, so I started working at the aquarium in Minnesota after I graduated."
As an aquarist, Kaiser had access to once-in-a-lifetime experiences. One time, while performing underwater maintenance on a tank with a team, she found herself trapped in the tank.
"We heard this really crazy sound, and it turned out that the male and tiger sharks were all trying to court the one female that they had, and the male sharks bite the pectoral fin of the female shark to hang onto her. And that noise caused this massive chain reaction in the tank where every fish started swimming around super fast," she said.
"We have a couple people whose job it is to be guarders, who hold these black and white poles, so the sharks think there's an obstruction and turn away. The sharks were ignoring that. So we were turning away and going to the exit. And right under the exit, the female, Jessie, was sitting there, almost like she knew we were going to leave that way. Eventually, we got her to move somehow, and we were able to get out," she continued.
Kaiser has also helped to rehabilitate sea turtles.
"In the Gulf of Mexico, younger sea turtles can get cold shocked, and when people find them, they bring them to a facility in Galveston, Texas. But sometimes they have more than they can handle, so they call us to put them in our exhibits to fatten them up to get them ready to go back to the ocean. Then we take them out on a boat and we release them into the ocean," she said."
Kaiser always had teaching in mind as an end goal.
"I always knew I wanted to be a teacher. In high school, all my teachers told me I would be good at it. But I didn't want to do it right away. I always told myself, when I'm ready to settle down and have a family, that's when I become a teacher," she said.
After trying to find work for several months in Monta Ray, Kaiser began to pursue teaching full-time.
"U Santa Cruz had a one year teaching credentials program. I quit my job, went back to school full time, and in one year, got my entire master's degree and did student teaching. When I graduated in July of 2012, I got a job teaching at Monterey High School. That was my first teaching job. I spent a few years teaching there and then moved back (to Oak Park)."
She also has some advice for those interested in a career in biology.
"You don't have to go to school on the coast. That's a good place to start, but don't assume you have to leave the Midwest. It is in your best interest to get out of your comfort zone. It's always going to build your character more if you go somewhere where you don't know many people," she said. "Volunteer now so you learn about the types of animals, which types you like to work with. Research the schools that offer programs to see if they have research or internship opportunities."
Kaiser believes her experience as an aquarist contributed to her skills as a teacher today.
"It's made me a good team worker, because in an aquarium, everyone has to collaborate to take care of the exhibits. So I learned to work with people I didn't know before or with different personality types than me," she said.
Above all else, Kaiser's experiences in marine biology taught her about something she loved to learn about.
"Everything I learned in my zoology degree, it's about, why (are) these animals like this? It made it real."