Athlete in focus: Jai Hsieh-Bailey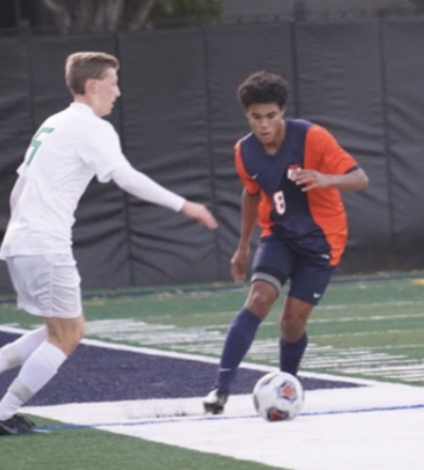 In his senior season, Marquette commit Jai Hsieh-Bailey lead the OPRF var- sity soccer team to a winning record.
Before focusing on his future in soccer, Hsieh-Bailey excelled on the baseball diamond, playing travel ball for Top Tier Americans, one of the premier teams in the midwest, along with OPRF's varsity team. "Baseball at OPRF was great, the program did everything to make the team feel like a family," he says.
Yet entering his junior year, Hsieh-Bailey was faced with the taxing decision of dropping one of the two sports. "Both (baseball and soccer) coaches knew how long and hard I was thinking about it," Hsieh-Bailey recalls. "But I knew I really wanted to play soccer in college, and in order to do so, I needed to drop baseball."
In his freshman season, Hsieh-Bailey made an immediate impact on OPRF's soccer program after the varsity squad struggled with injuries.
"He came up to varsity halfway through his freshman year," says head varsity coach Jason Fried. "He was always very fast. Even as a freshman, he was one of the fastest on the varsity field."
"I was just the type of player to give the team decent, quality minutes for when the other starters and players need rest," says Hsieh-Bailey. "Each year my role has changed."
Now a veteran, Hsieh-Bailey leads by example, a key piece of Fried's defense. "When the game is going bad, he stays calm," says Fried. "You don't see him going completely off on players or making excuses".
Sophomore Josh Dennis, playing his first season on the varsity squad, has learned from Hsieh-Bailey's character. "He's the best player I've ever been on the same field as," says Dennis. "He's very motivational… someone to look up to for sure."
Hsieh-Bailey entered a competitive recruiting process before committing to Marqutte last May. "The recruiting process was long, stressful, and tiring. A lot of time and effort was put into just trying to be seen by coaches," says Hsieh-Bailey.
But after Hsieh-Bailey made a name for himself to recruiters, Marquette University fit right into his desires of playing college soccer. "I liked where it is geographically, especially since most of the schools I was talking to were very far away," he says.
The Golden Eagles, a part of NCAA Division 1 soccer, also run a similar game-plan to what Hsieh-Bailey is used to. "I really liked the coaches' philosophy on the game, it's exactly what Fried has been trying to implement at OPRF," says Hsieh-Bailey.
On Oct. 11, the OPRF varsity team beat the then undefeated St. Patricks Shamrocks with a 2-1 comeback in the second half. The game is one of the seven games OPRF has won by two goals or less. "He'll always have some big moments in the game, making everyone else start playing better," Fried explained. "He can shift the momentum." St. Patricks' team was ranked third in the state.
Overall, Hsieh-Bailey has embraced his role on varsity. "I'm the type of player that has to bring it day in and day out. I want to become a better soccer player, opposed to just being a good athlete that plays soccer," he said.