Field Hockey: season in review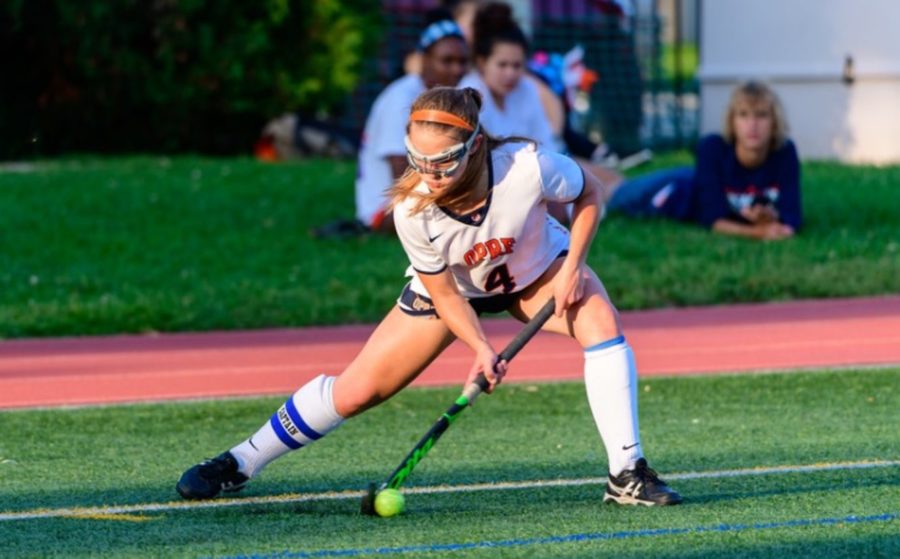 Keeping committed and competitive mindsets are what OPRF Varsity Field Hockey coach Kirstin Wirtz has stressed for her team this season. When Wirtz joined OPRF's field hockey program in 2015, her players desire to win was not evident. "When I came in (the mindset) was more 'I'm doing (field hockey) because my friends are doing it,'" says Wirtz. "Whereas my attitude has always been: I play field hockey because I love the game, I love competing, and I love winning."
While the competitiveness has improved this season, Wirtz says that her team needs to have a better understanding of what it takes to win if they want to be crowned state champions.
For Wirtz, a 2009 OPRF graduate who finished a state runner-up as a junior and an all-state selection as a senior, getting the Huskies back to the level they were competing at a decade ago is essential, and she knows what it takes. "In the past few years we haven't been quite what we were when all of the coaching staff was in the program. Because then we were finishing a top two, top three team ever year. So I think as a coaching staff our goal is to get back to what we were at that time," says Wirtz.
After finishing last season seventh in state, Wirtz and her team knew changes had to be made as soon as the offseason began. "This past offseason we got more and more athletes playing out of season," says Wirtz. "You just can't get better if you only play three months out of the year. I think that girls getting more touches on the ball and playing year round has made a big difference and made our athletes realize that they need to commit to the sport."
Aside from more players competing for out-of-Season teams, much of the team's improvement in regard to attention to detail began early in their June summer camp, says senior captain Meredith Revsine. "We worked a lot in the offseason. Our camp starts in June so we've been working pretty much from June until now," says Revsine. "Something that we really made a point of was to start each game ready to go, which I believe has really helped us."
"When summer camp began in June, we really tried to set the tone, draw more competitiveness from them, and raise the expectation," says Wirtz.
The expectation Wirtz has for her team is more than just girls coming together to play field hockey for a few months. Instead, her expectation is that she will lead a group of athletes passionate about their sport and love playing. Wirtz says she believes after a 2019 season which got off to a 7-0 start, this expectation is appropriate for the team moving forward.
In evaluating the future of OPRF's field hockey program it is important to note how young this year's team was. As a team made up of eight underclassmen, their improved mindset and 9-6 finish is all the more impressive. "We have a pretty young team so we started off the season with nothing to lose, but we have grown really competitive and have shown that we can compete with the highest ranking teams," says Revsine. Some of these high ranking teams include Glenbrook South and Loyola Academy, who OPRF lost to last season with a team made up of mainly seniors but beat this year.
While there have been plenty of bright spots for the team this season, there is still work to be done. "We had a really tough end of the year notably against New Trier and Lake Forest. So a combination of us having a tough schedule and being a young team makes it hard to have the endurance late in the season," says Revsine. "The mental toughness definitely needs to improve but I am confident that it will, and if it does I believe the team can make a deep run in the playoffs."
Even though the team's season came to a close in a 1-0 loss to Antioch Community High School in the first round of the playoffs, Wirtz says she believes the team can make a run at state in the near future. "Within the next two years, I don't see why a state title couldn't be on the table," says Wirtz.