Three men on: Big college commitments on the baseball team
Although still a long way away from the OPRF baseball season, the team has a lot to be excited about. Three players have already committed to play college ball. In September, both Dylan Whitney (John Hopkins) and Aidan Krupp (Notre Dame) committed, joining Grant Holderfield (Indiana University) in that category.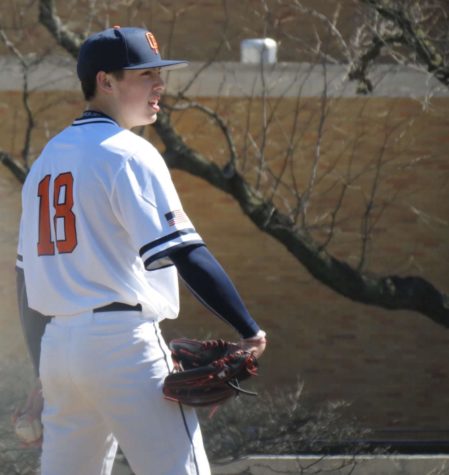 Junior pitcher Holderfield, the first of the three to commit, decided on Indiana University in February. It may seem a bit unusual for a player to commit so early in his high school career, however many college teams try to fill up their rosters a couple years in advance, and Holderfield wanted to get the process out of the way. "It was stressful deciding between schools, but I found the one that I felt most comfortable with," said Holderfield. "Getting it over with early, as a sophomore, was really nice."
Holderfield was interested in going to a Big Ten school, as he also considered Michigan, Illinois, and Purdue. "The conference [Big 10] is really competitive, and has really good schools too," says Holderfield. "I was looking for the best of both worlds."  Holderfield decided on Indiana shortly after attending a prospect camp there on Feb. 2. While at the camp, head coach Jeff Mercer gave Holderfield a tour of the baseball facilities. "The training facilities were very high quality, the locker rooms were super nice, and the field was awesome…It was mind-blowing," Holderfield said.
Similar to Holderfield, Junior pitcher and first baseman Aidan Krupp committed to college long before signing day, which is held during the spring of senior year, committing to Notre Dame University Sept. 10. Krupp's commitment to Notre Dame was not only based on his interest in the baseball program. "Not only will I be able to play against some of the best kids in the country in a great conference, I'm also going to have a lot of support behind me focusing on my academics, which is going to be really important for me," said Krupp.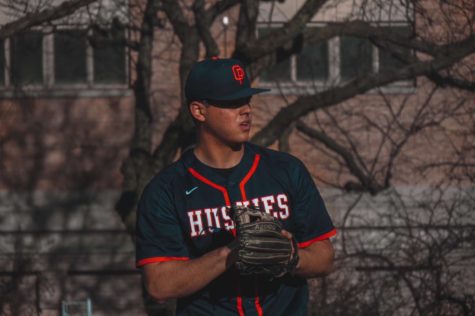 Before committing, Krupp narrowed his options to Xavier, Tulane, and Notre Dame. Krupp ended up choosing Notre Dame because they made an offer to him right away, and he thought it was a good fit. Krupp said, "It was a pretty quick decision for me and my parents, all of us fell in love with the school."
Although Krupp is already committed to college, he is still motivated to elevate his game because of his aspirations for the rest of his high school and  college careers. "I want to be the top pitcher for my high school team and my travel team. And going into freshman year of college I want to, if not be a starter, make it the hardest decision the coaches have to make to not make me a starter."
Though Krupp has yet to play a game on OPRF's varsity team, he dominated on the sophomore team last season. "On the mound, Aidan was lights out," says sophomore baseball coach Mark Pappalardo. "Of the 103 batters he faced, he struck out 38. He allowed one earned run all season over 36 innings. Aidan was dominant on the mound and it showed in the team's overall performance." Krupp also had a great year at the plate. "Aidan was a threat at the plate all season hitting clean up. Aidan lead the team in the following categories: hits, HR, RBIs, average, and walks," Pappalardo said. "Aidan worked diligently all season and we are all very proud of his commitment to Notre Dame."
Unlike Holderfield and Krupp, senior shortstop Dylan Whitney didn't commit to John Hopkins University until his final year of high school. Academics played a significant role in Whitney's decision, as his final list of schools consisted of Fordham, Columbia, MIT, and John Hopkins. The other factor that contributed to Whitney's decision was the success of the school's baseball program. "I really wanted to put a stress on academics," says Whitney. "Hopkins is one of the top DIII programs baseball wise, so that was definitely a factor for me, which is the ability that they win a lot. Getting to win 30 games a year instead of being bottom of the conference."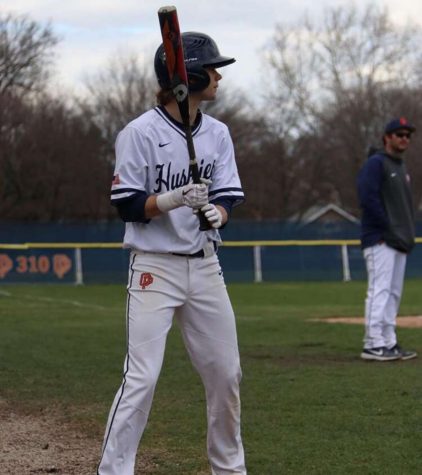 Last season, Whitney played a big part in the Huskies' road to the Super Sectional, as he had the second  highest batting average on the team at .364, drove in 20 runs, and scored 36 runs in the leadoff spot. "Dylan is just consistent," says varsity baseball coach Joe Parenti. "He always seems to produce in some way, or make his mark on the game somehow. Whether he steals a couple bases, or gets a couple hits, or makes a couple plays for us, he's just very consistent day in and day out, he's definitely going to be one of our main leaders this year. And that is something that's actually really important for the team, so we're kind of expecting that out of him, and I think he'll fulfill that role very well."