Boys' Cross Country has "first in state potential"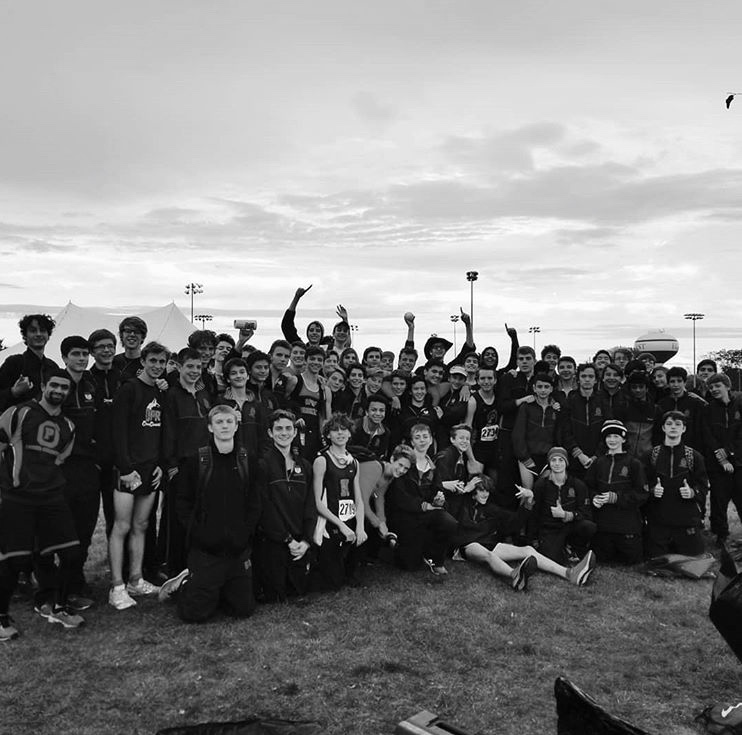 Many people simply view the cross country team as a bunch of skinny, unathletic looking kids. While those observations may be true, boys cross country at OPRF offers so much more. From the legendary Peter Koenig to Jack Blatchford's luscious mullet to Irwin Loud's mystifying legacy, they truly have it all. Even further, thanks to extraordinary coaches and staff members Chris Baldwin, Abel Reyes, and Andre Harris, cross country consistently touts the highest sport team GPA.
Formed through strenuous distance runs, pasta pigouts, and open attitudes, cross country forms a unique culture. It fosters both hard work and eccentricity.  These qualities are constantly on display. Senior runner Jack Blatchford said that Jack O'Sullivan, senior, and Leo Rooney, sophomore, are perfect examples of Coach Reyes' "tough shinskies" no excuses attitude. Within a span of one year, both improved by over two minutes, moving them both up to "top dog" in their respective class.
As for eccentricity, cross country is open to all types of kids. Newcomers are quickly immersed at group team practices and into its prank culture, which creates a sense of fluidity throughout every grade. From Paul Raducha and Will Vejcik to Cooper Ricks and Owen Arnold, one is guaranteed to meet various amusing characters.
As for the season, the team is hoping to qualify for state, by finishing in the top five at sectionals. Leading the varsity pack is the aforementioned Jack O'Sullivan and Junior Eamon Cavanaugh, the epitome of a runner who "puts in the miles." Behind them is the 5-foot-2 freshman phenom Liam Newhart and fellow freshman standout Brady O'Connor. Rounding out the pack are seniors Jack Blatchford and Paul Raducha and sophomore Wes Morrison.
As evident with three underclassmen on the varsity squad, the future is bright. The younger runners maintain a healthy balance of hard work and entertainment. Jack Blatchford has high hopes for the coming years saying they have "first in state potential."