Comedy Club takes the stage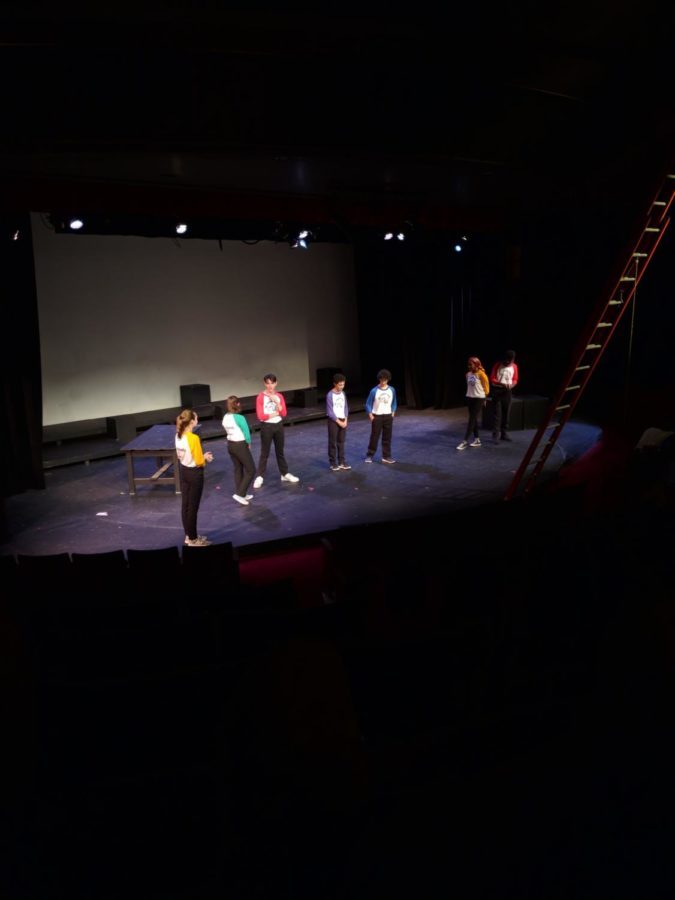 From Oct. 10 to Oct. 12, a group of students invited Oak Park and River Forest High School to laugh.
The Comedy Clique, a sketch comedy and improv show directed by biology teacher Michelle Bayer in the Little Theatre, starred 14 student actors, as well as a production staff, stage, and makeup crews. Each actor participated in writing and creating sketches for the performance, which they coordinated with senior Vivian Picciotti, the show's head writer.
Picciotti spoke about the process by which the show was written.
"We would go around in a circle and talk about what we wanted to write, and then I would take notes while they were doing improv and write some sketches," Picciotti said. "I would (also) walk around, help edit sketches. Just clean them up a little bit. It was a really communal process."
Not every sketch idea made it to the final performance. "At the start of rehearsal, we had a bunch of people pool ideas," said senior Ben More, an actor in the show. "Then the director and production staff picked which ones would transition to the stage."
The seed of a sketch comedy and improv show had been germinating for some time at OPRF, such as in improvisational performances like Playback Theatre. Many actors in the show had prior experience with comedy, which led them to audition. "I've been doing improv classes since I was 8 or 9, and in my freshman year, I took a one week comedy class at Second City," said sophomore Elisa Perrone. Second City, an improvisational comedy club and theater in Chicago, is famous for starting the careers of many comedians, including much of the cast of Saturday Night Live.
The Comedy Clique featured 13 original sketches as well as five improv games, exercises in improvisational comedy fueled by audience suggestions and acted out on the spot. In her director's note, Bayer expressed how difficult it was to put the show together.
"In addition to writing, blocking, and performing the sketches, this cast also had to learn elements of improvisational comedy. These are all skills that take years to master, and we only had four weeks!" Bayer wrote.
The improv games were rapid-fire, spontaneous performances that varied from night to night. "The director had a list of improv games that would go on stage, and we just played them a lot and got comfortable with each other," More said. "That's really the most important part of improv, to be comfortable with the person you're with."
More also emphasized the role of the bonds the cast formed with one another. "I will say that something that made the show different for me was how much we all worked with each other," he said. "I've been in a couple shows where it's just separate groups. The comedy show was not that. We all knew each other's names, we were friends, and it was a lot of fun. It led to some really crazy scenes."
Picciotti agreed. "I was sick one of the days and I couldn't go to rehearsal, and afterwards everyone was asking how I was and that was just so nice," she said. "Everyone was checking in on me. It just goes to show that we put together a show in a crazy short amount of time, and yet we all became really close and put together this really fun thing."
Stage crew and the production staff were critical to the show's success. "I always have to give a shout-out to stage crew. Even though we didn't have the biggest set, we had a lot of lighting and sound cues. I remember specifically, one of the sketches I wrote was about some cockroaches who build a human robot and send it around the school. Crew actually got this huge board and painted it as if it was a cockroach trap," More said.
"Even though the set wasn't a big thing, crew does a lot for the theater program, so it's nice to have them to bring the director's vision to life," Perrone said.