Heart over height: the legend of Alec Cabacungan
Seth Engle, Editor-in-Chief
November 22, 2019|1,459 Views
The halftime show for the Nov. 9, 2017 Cleveland Cavaliers-Houston Rockets game on TNT's "Inside The NBA" was different than usual. While the regular crew of Ernie Johnson, Kenny Smith, Charles Barkley, and Shaquille O'Neal cracked jokes with each other and expressed logical insight on the first half of the game, a new voice was at the table. Sporting a bowtie, a common accessory of his idol, Ernie Johnson, OPRF senior Alec Cabacungan sat comfortably in the dead center of four of the most prominent faces in sports media, smiling, laughing, and talking basketball.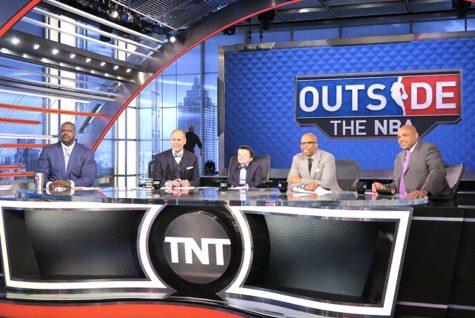 Maybe you've seen him in the halls, on Newscene, or on TV posing as the spokesperson for Shriners Hospital for Children, a hospital network of 22 non-profit medical facilities across the continent. In public, it's not uncommon for people to recognize him as "the kid from the Shriners commercial." However, he is much more than that.
Cabacungan has a condition called osteogenesis imperfecta, also known as brittle bone disease, which results in fragile bones that break easily. The National Ambulatory Medical Care Survey notes the average U.S. citizen is expected to sustain at least two broken bones in their lifetime. Cabacungan has broken over 60 in only 17 years. "I'm short in stature, I'm wheelchair bound for the rest of my life," says Cabacungan. "But I'm happy, healthy, and having fun."
At two months old, Cabacungan began getting treatment at Shriners. However it wasn't until 2014, at 12 years old, that Shriners asked him to do a commercial. "I didn't think much of it, honestly," said Cabacungan. "I thought it would be something that my friends could see and make fun of me for while doing something to help the hospital a little bit." What he did not expect was that the commercial would have a much bigger impact on the children getting treatment at Shriners.
While vacationing in Atlanta, a few months after the commercial hit screens, people began to recognize him. "That's when I realized that the commercials were bigger than I'd imagined, and I was helping a lot of people," said Cabacungan. "The commercials have made people feel good and I think that's what it's all about. If you get behind a charity or other foundation then I feel people are absolutely going to connect with you."
While Cabacungan is widely known for Shriners' commercials, as their spokesperson he also travels the country with the Hospital and speaks at charity events to help raise money and awareness of the work Shriners does for children. "There are so many kids who need medication and medical services from Shriners," but are unaware of the hospital's benefits, says Cabacungan.
Cabacungan also serves as an inspirational figure for patients in the hospital and classmates at school. "Whenever I see someone sad at school or at the Hospital, I try to make them laugh and distract them from the negatives going on in their life," he says. "I honestly feel like laughter is the best medicine. It's how I've overcome a lot of my problems."
Following sports has also helped Cabacungan overcome major obstacles and have been the theme of his lifelong dream of becoming a sports broadcaster. "Sports have been a sort of distraction in my life because of all the obstacles I've had to overcome," says Cabacungan, who has played wheelchair basketball for years. "It was never easy growing up, but when I would watch the Bulls or the Bears it would always be a nice distraction for me. I love to see these superhuman athletes just going crazy."
In 2015, Cabacungan's dream of sports reporting became a reality. When the NFL Draft was hosted in Chicago that year, the NFL came to Shriners and allowed Cabacungan to interview a few draftees, such as Los Angeles Chargers running back Melvin Gordon and Minnesota Vikings cornerback Trey Waynes. Ever since then, Cabacungan has built a very strong connection with the NFL, even developing a friendship with commissioner Roger Goodell.
While Cabacungan has interviewed professional football players such as Ezekiel Elliott and has even gone fishing with Hall of Fame quarterback Brett Favre, his connections in professional sports do not end with the NFL.
Cabacungan has also met sports figures such as Cubs first baseman Anthony Rizzo, 2019 NBA Draft first overall pick Zion Williamson, professional golfer Rickie Fowler, and Spurs head coach Gregg Popovich. "Sometimes the athletes recognize me from the commercials and understand the mission. Other times I'm honestly shell shocked and just want to pick their brains apart. My 'sports broadcasting-interviewer Alec' comes out and I just want to ask them all sorts of sports questions," says Cabacungan.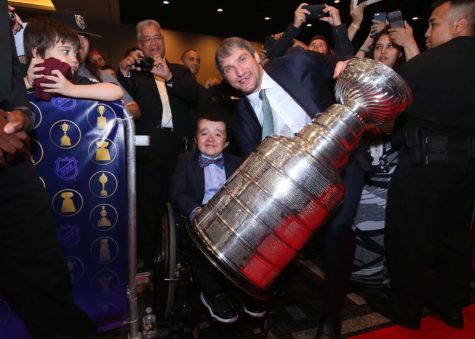 This year, Cabacungan is able to practice his sports reporting on a local stage, now a part of Newscene's sports segment, beside Alan Brown and Jaden McGill. "It's something I can fool around with. We edit and create our own material. It's just a lot of fun," says Cabacungan.
Now almost halfway through his senior year, Cabacungan has sights set on college, planning to major in a communications field with hopes of making a career in sports broadcasting.
Even through all the obstacles he's had to overcome, while earning unforeseen fame, Cabacungan has always remained humble, happy, and optimistic. "The commercials do a great job of showing how much I care about the hospitals, but I do have a life outside of all this TV stuff," says Cabacungan. "A lot of people give me all the credit when they talk about me and all my success, but I'll be completely honest with you… the person I am today is because of my three older sisters, my friends who inspire me, and last but not least, Oak Park."