Conley makes cheering more accessible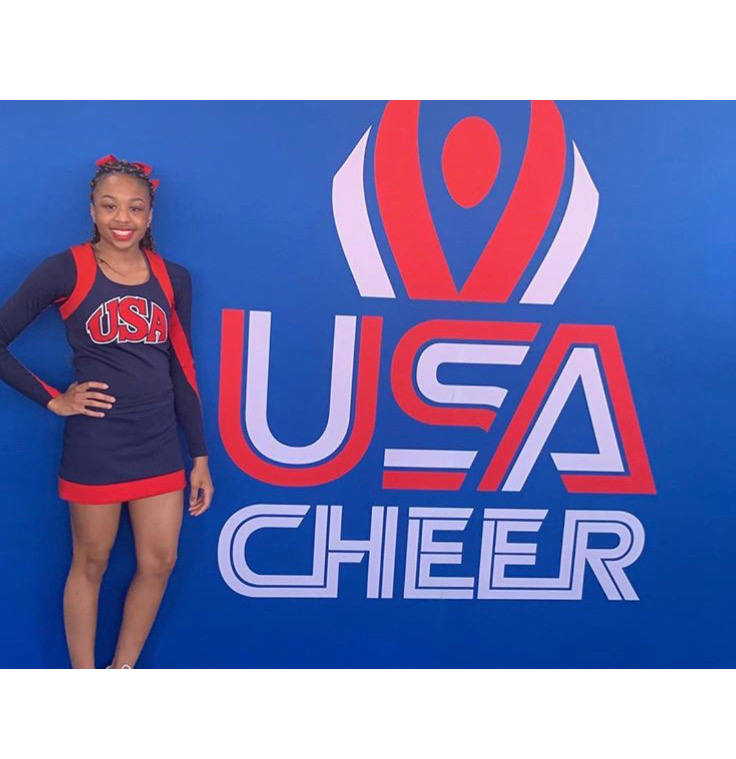 After multiple days of three hour practices, OPRF junior Iry Conley stands with her teammates under the blazing hot Costa Rican sun. Many of them had never left the country, but after several days the initial excitement has faded as they sit irritated from the heat. Despite grueling practices in the rain and humidity, as her team approach the mat, they immediately flip a switch.
Conley is hoisted on top of her teammate's wheelchair and maintains her balance as they reach the peak of their flawless performance. Months of practice culminate in this routine: they won the Gold Medal at the 2019 ICU World Championship in the Adaptive Abilities cheerleading division.
"Right before our routine, I smiled at my teammates and I knew we were going to win gold," Conley said. "To see my team pull it together even though the conditions were not in our favor, was amazing," she said.
To this day, Conley and her team (ParaCheer Midwest Wolves) have won two gold medals and are vying for another win this year.
While she loves competing alongside her friends at OPRF, her real passion is making cheerleading more accessible for people who can't compete traditionally. Two years ago, her friend introduced her to ParaCheer, where she is now a part of a performance team that unifies athletes with and without disabilies.
"I loved it after the first day and just couldn't stay away," said Conley. "I've built a connection with these people. I love the attitude they bring to the practice. In general, there is never a dull moment."
Each month, she and her team travel around the world to compete in the Adaptive Abilities division of cheerleading.
"Even though some people may not cheer the traditional way, there are adaptations that can be done," she said.
While some of her teammates have wheelchairs, that doesn't stop them from orchestrating intricate routines and practicing for around 3-4 hours. Compared to the OPRF season, Conley admitted that she has to work harder at ParaCheer.
"Practices are harder and longer. We've won gold twice so we hold ourselves to higher standards," she said.  "It was hard at first because I didn't know how to approach it, but now I know how to push them a little harder."
After joining the cheer team her freshman year, she wanted other ways to get involved. "I tried it because it seemed fun. I wanted to open my horizons to different things beside high school cheer," she said. "I love the thrill of being on stage and just competing in general. When I compete, I try my hardest and leave it all on the mat." In regards to both the OPRF and ParaCheer team, Conley said, "I am surrounded by people who want to do the same as me." Despite finding the adaptive cheer routines hard to navigate at first, she said that her passion for helping people motivated her to research the team and consistently show up to practices. "They help me learn. They tell me how to fix something and I also tell them. We really just help each other."
In her third season with ParaCheer, Conley is looking forward to competing at the ICU World Championship this upcoming spring. Their gold medal performance in Costa Rica is still her favorite memory. "Having that victory with them, I would never replace that," she said.  "I love these people. I love the coaches and the team bonding."
Conley has expressed her love of spreading awareness of inclusive cheer and advocating on behalf of people who have been told they couldn't cheer at all. "If anyone wants to cheer, then they should be able to cheer," she said.