Athlete in Focus: Nico Bolivar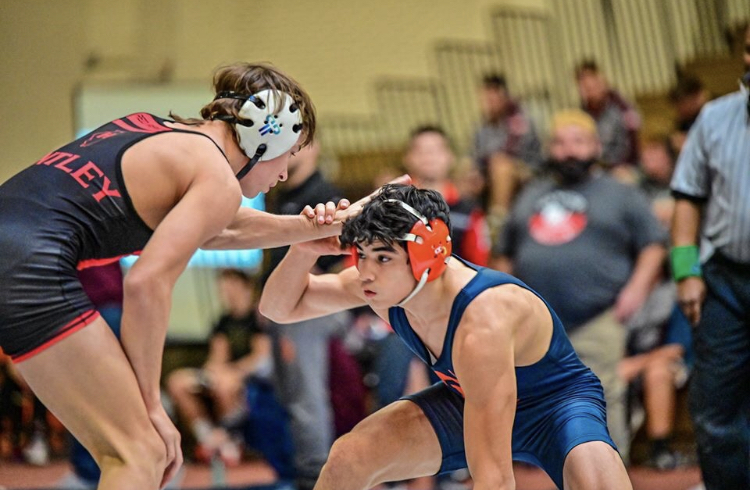 It's been 12 years since Nico Bolivar started wrestling, and as graduation approaches, he's not planning to hang up his uniform.
Between his unique opportunity to wrestle with his brother and the competitive nature on and off the mat, wrestling has taught Bolivar more than just athletic skills, and he thinks he "still has more to learn."
Being a student athlete is an around-the clock-job, especially for wrestling. Because wrestlers are required to maintain their weight class, limiting food consumption is a major commitment. Aside from the physical taxation of any athlete, mental prosperity is key to maintaining focus and overcoming (or embracing) the pressure of short, individual wrestling matches.
The dynamic of a one-on-one match weighs heavy for Bolivar. "If you wrestle a match and get so fatigued you can't even finish the match, you can't blame your teammate," he says. It's only you and your opponent on the mat." As a result, wrestlers have to take a lot of personal responsibility to work on improving your mental and physical capabilities.
Considering the extreme conditions wrestling requires the body to endure, having a positive, accessible source of motivation can make or break a career. Bolivar found his close to home: Eddie Bolivar, his older brother.
The pair started wrestling together, practiced against one another, and cheered each other on since they were always at competitions together. But most of all, Bolivar remembers "having him during the toughest times…he was there to battle it out with me, or just be there to support me, and vice versa."
Bolivar will be joining his brother at Indiana University next year, where they will compete side by side  for the first time in three years.. Hoping to carry the life skills he has learned on and off the mat will be the focus of his collegiate career.
His junior year, Bolivar recalls coming in 3rd in an important semifinal match he was prepared to win. He decided to talk to an old coach, since he knew he couldn't succeed in the state tournament with such a negative mindset. His coach gave him a reassurance he thinks back to before every match now, telling Bolivar that "nothing before the state tournament matters."
Bolivar is ending his high school career with an impressive record of 102-26. He holds the 5th place spot in the Illinois High School Sports Association, was the 2018 and 2019 Team State runner-up, and the 2018 Illinois Freestyle State Champion.