A different kind of concert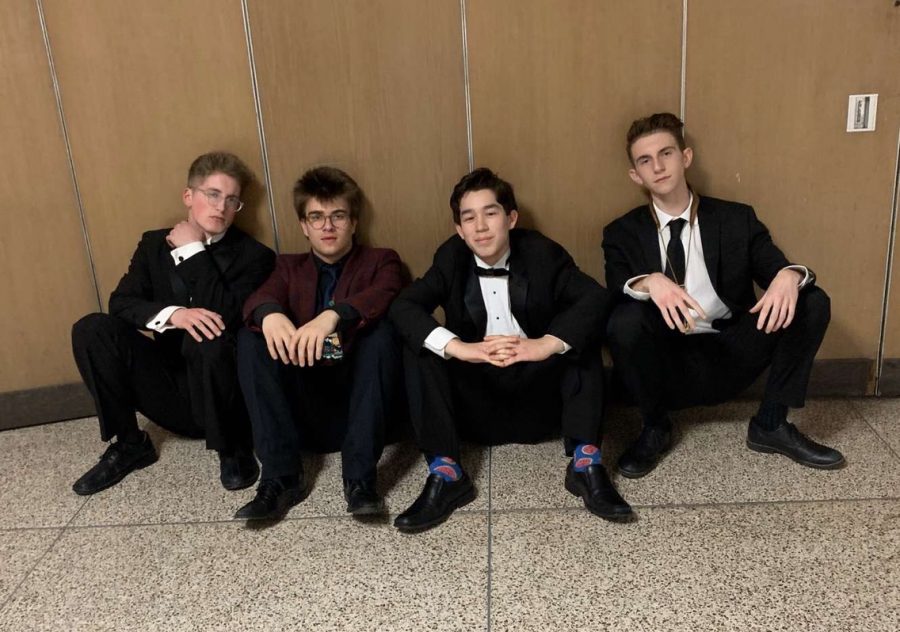 With every seat filled, the audience leans forward expecting another beautiful performance by the students of OPRF. The lights dim and the audience quiets, brimming with anticipation. Music starts playing beginning the OPRF classic show "Prisms of Winter."
"Prisms of Winter" took place Dec. 12 and 13 featuring a myriad of holiday songs. Lights shined in every direction, constantly cutting between musical numbers, showcasing various talents in music. 
This performance is unlike any other the school has to offer. Senior Rufus Parenti,  a tenor saxophone player, said, "Not being able to see the audience, it kind of feels like you're playing toward and empty room besides the few faces you can see." In the auditorium, a group of musicians play their piece before transitioning to another song with another group in a different section. With songs constantly changing and musicians surrounding the audience, it's easy to get lost in the complexity of the show.
A popular show, "Prims of Winter" ran for two nights rather than the usual one. "The community has been asking for there to be more (shows) because of how ticket sales work." Senior Nicky Altier, playing trumpet, said, "music program families get to buy tickets first so it would always sell out pretty much immediately once it was open to the public so people who weren't involved in the music program couldn't see it." In efforts to reassure enthusiastic patrons, music from the concert filled the auditorium for two nights. 
This new dynamic changed the weight of the show. Normally, the one night show put pressure on performers. "If we made any mistakes, we kind of really didn't care because we had another night to fix them." Parenti said. With an extra night, the burden of performing for only one night was lifted from their shoulders. 
For seniors, this will be their last "Prisms of Winter." Senior Olive Badrinath, playing the saxophone, said, "I was sad that it was my last prisms, but I'm really glad that I was able to enjoy being a part of it for all of highschool." The experience of playing in prisms mattered as much as the end product."
Seniors can reminisce about their time together as they grew in musical ability. "How the finale in prisms work is you play the same song your senior year that you played your freshman year so it's like seniors get to go back to what they started with." Altier said, "I remember that being really difficult my freshman year and in this final performance I completely nailed that one part and I played it really clear and everyone's up and clapping after because it's the last part of the finale and it just felt really good." The experience of playing in Prisms of Winter is one seniors won't soon forget.