Students grapple with Tik Tok fame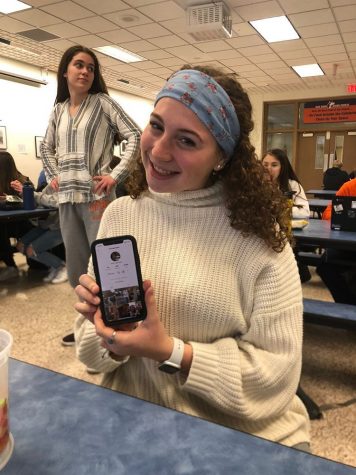 These days, youths enjoy not 15 minutes of fame, but rather 15 seconds of "Tik Tok fame." This type of celebrity is distinctly Generation Z — borne from, of all things, a cell phone app. 
Tik Tok was engineered to produce viral content. The video clips uploaded are limited to 60 seconds, making their production and consumption easy. Content is aggregated on the "for you page," a tab of videos for each user that is curated by algorithm. 
Tik Tok has pervaded teen culture. The app has several hundred million users in the U.S. alone. At OPRF, it is as common as Instagram or Snapchat. Through Tik Tok, millions of teenagers around the world interact, sharing dances and memes, largely through the "for you page." 
In the process, videos can attain virality — Tik Tok fame. Several OPRF students have posted videos that have obtained millions of views.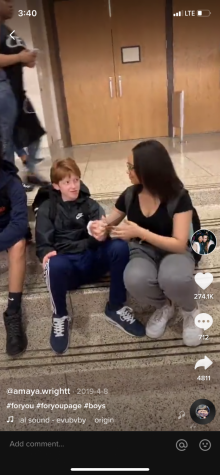 Amaya Wright, sophomore, went viral last spring. A friend films Wright as she performs a social experiment. A boy is talking to his friends, and Wright stands behind him. She laces her fingers between his, surprising him. Four different boys are featured in the 15 second compilation. Her video is set to J Boog's 2010 "Let's Do It Again."
Wright posted her video in the morning. By fifth period, the view count was surging. "It has 1.8 million views on Tik Tok and 2 million views on Instagram," said Wright. 
Zoe Regenstein, junior, went viral early January. 
Posted in early January, Regenstein's video playfully satirizes the behavior of suburban Illinois teenage girls when they visit Chicago. In each portion of her video, Regenstein strikes a pose she deems a social media cliché. Each stock photo backdrop features both a different destination, like Cloud Gate and Oak Street Beach. It's set to Mariah Carey's 2009 song "Obsessed." 
"I had my little moment," Regenstein said. The video accumulated 220 thousand views and 39.7 thousand likes. "I wouldn't consider myself 'Tik Tok famous' at all."
The app itself actively encourages users to create viral content.
When users caption videos, they can access a list of trending hashtags. The hashtag's view count is displayed beside a red fire emoji or a blue thumbs-up. Both Regenstein and Wright used hashtags that were diminutives of "for you page" — "fyp," "foryou," and "foryoupage." 
"I think, deep down, everybody kind of wants to go viral, but the ones that usually go viral are not what you're expecting," said Regenstein. Becoming viral wasn't a deliberate act for her, but it wasn't unwelcome.
On the opposite side, unlike Wright and Regenstein, there are creators who themselves attempt to become "Tik Tok famous."
Regenstein calls them "clout chasers." She thinks that some teenagers desire excessive amounts of external validation, which is attainable via Tik Tok. 
As a result, some content on Tik Tok can be shallow or divisive. However, both creators maintain that Tik Tok isn't particularly harmful to the knowledgeable Internet citizen.
"It's kind of a given, a lot of people are superficial and they can bring that to the app," Wright said. Likewise, Regenstein believes that the videos that are jokes and Tik Tok dances have definite entertainment value, but aren't necessarily meaningful.
"I think the reason so many of us appeal to Tik Tok is because it's very relatable, and because the videos are so short, it's instant satisfaction," said Regenstein. 
Both Regenstein and Wright downloaded the app for its novelty — the app was new and seemingly well-liked. It would soon prove its worth. 
"If I'm stressed out, I can watch Tik Toks and calm down in about 10 minutes," said Wright. She especially enjoys learning the trending dances, learning them "as soon as they come out."
"I had a friend who had a Tik Tok of him singing go viral," said Regenstein. The platform can provide recognition for a variety of artists and musicians, like Lil Nas X, whose single "Old Town Road" first caught wind on Tik Tok.
Likewise, youth activists have harnessed the platform to advocate for their movements. 
"I wasn't hearing a lot about the Australia wildfires elsewhere," said Regenstein. Wright follows a Tik Tok account focused on global warming. The account shares tips and facts, which she finds encouraging. This type of peer-to-peer newscasting is particularly unique to Generation Z.
The diversity and quantity of content is unique to Tik Tok, but the platform shares similar flaws with other social media apps. 
"It definitely can get addicting," Regenstein said, though she recalls being able to use it less during finals week. 
 In the past, Wright and Regenstein have averaged over four hours a day on Tik Tok. Wright makes about six videos daily, though many aren't posted. The Washington Post noted teens average about seven hours of screen time outside of school. 
The app, developed in China, also carries some security concerns. In November, the app was reportedly under national security review, per the New York Times. "My dad always jokes, 'The Chinese government is watching you,'" said Regenstein. 
It's unlikely Tik Tok will disappear anytime soon. As long as it remains, users have the chance to shoot for Tik Tok fame.