Speech team season ends at sectionals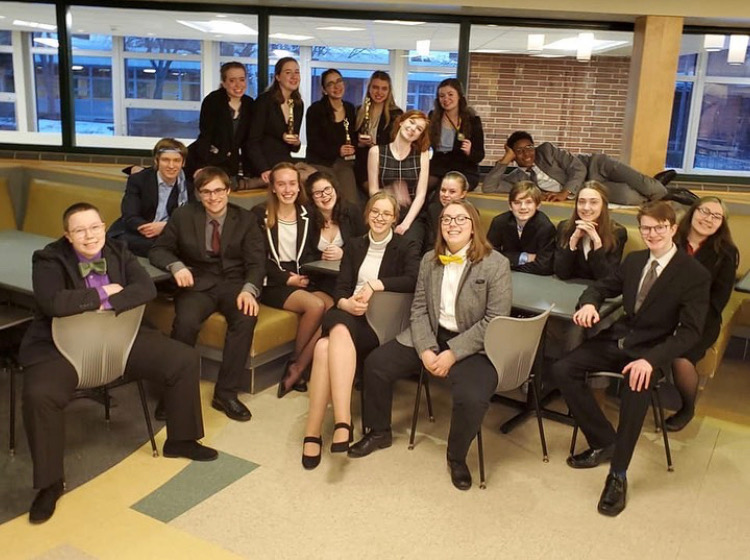 On Feb. 15, OPRF's speech team finished their season with a bang.
At the hardest sectionals event in the state, the 10 members of the team who qualified for the event delivered dramatic monologues, persuasive speeches, and comedic performances until their throats were sore. Although none of the OPRF contenders qualified for state, the shared experience of getting up on stage and opening their hearts to judges and an audience was one none of them would forget.
"Speech has 14 different events, including both public speaking and acting events," said senior and speech team co-captain Lauren Debirs. "The cool thing about speech is that you can talk about whatever you want. It can be a speech about changing the world, or just a monologue."
Speech differs from debate, another OPRF program, both in its variety and its team dynamics. While the speech team is still very much a team, speech events are solo affairs, written and executed by a single member of the team. Speeches delivered and witnessed by OPRF students this year varied wildly, from a speech about volunteering to an original comedy (O.C.) about dead presidents.
Students join speech team for various of reasons. "At first, my mom told me I should join speech team, but I refused," said senior Nora McIntyre. "Later in freshman year, I realized that (some of my friends) were on the team, and I thought, 'This seems fun.'"
Fellow senior Baxter Flynn had his own reasons. "I joined because I like having a platform from which I share my opinions."
While the season came to an end Feb. 15, it was not without its successes. "This year, we placed third at one of our invitations, which is really exciting," Debirs said. The team also came in fourth at regionals out of eighteen teams, which earned it a place in sectionals. "You can individually place, which is always fun, but it's better to see the team do well," Debirs continued.
Win or lose, speech team can offer valuable skills and insights. "In middle school, I took a public speaking class. Then, I joined speech my freshman year because I liked to talk," Debirs said. "The fun thing about speech is that even if you're not successful (in competition), you pick up speaking skills that can last your entire life."