Baseball preps for next week's start of the season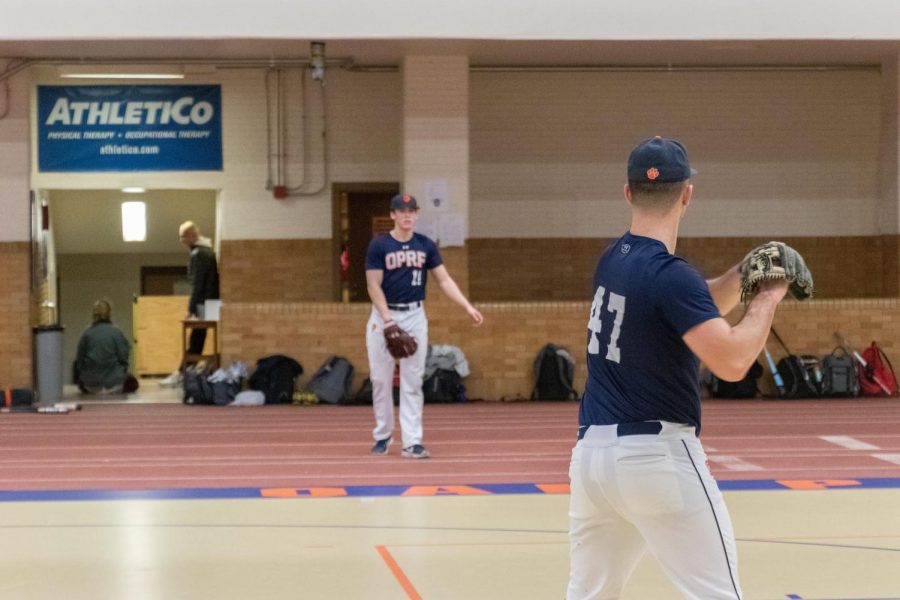 March is nearly upon us, which means the highly anticipated OPRF baseball season is right around the corner. The Huskies will kick off their season on Mar. 20, when they face Belleville East in the PBR Kick-Off Classic. After last year's season came to an end in a loss against Hampshire in the super-sectional, the team has looked to regroup and build on last year's strong season by working hard during the offseason. "The goal is always state," says senior outfielder Alan Brown, "but right now, our focus is getting ready for the season."
The team looks a lot different than last year, as seniors made up for 18 of the 26 players on last year's roster.  Only two starters remain from last year's team, leaving mainly inexperienced juniors to carry the bulk of the weight this season.
One area, in specific, where head coach Joe Parenti expects a strong lack of experience is on the mound. "We lost some pretty good pitching," Parenti said. "We were very dominant on the mound. That's an area we have to fill in. We don't have a lot of varsity innings returning." The team only has four total pitchers returning: Grant Holderfield and Austin Divelo, who pitched a combined 5 innings due to injury, and Luke Clancy and Griffin Weisman, who have yet to pitch in a varsity game, spending the entirety of last season on JV.
Although the team may not have many experienced pitchers, Parenti still believes the team will have success on the mound. "We aren't bringing back a lot of experience in the pitching area," Parenti said. "However we do feel like we have good pitchers, it was just hard for those pitchers to crack the lineup last year."
Other positions that need to be filled include a couple of outfield spots and catcher. The team lost a four year starting catcher in Luke Fitzgerald, who now plays for Creighton, but Parenti believes that the team "has some good candidates for that job."
Because the team will have lots of new faces this season, Parenti expects the seniors on the team to take on a leadership role. "Since it's a smaller class I expect all of them (seniors) to be leaders in some form," Parenti said. "I think they all lead in their own way."
Senior Dylan Whitney, who recently committed to play at Johns Hopkins, weighed in on the matter and said he believes the most important responsibilities of being a leader are simply "playing the game the right way and working hard to set an example for the younger guys."
Parenti hopes that the returning seniors will help create a bridge from last year's team to this year's. "We really had a great team," Parenti said. "Meaning guys seemed to get along very well, guys sacrificed playing time because they wanted the team to win, and I don't think guys were concerned about individual stats. I'm hoping that these seniors can pass that message on to the younger guys."
Whitney shared similar views, as he believes that last year's success can prove to be useful to the team this year. He also believes that last year's state run will serve as an inspiration for the team this year. "I think everyone who was around for the run last year understands how cool of an opportunity it is to play for OPRF and that'll continue to motivate us," says Whitney.