Activist profiles: Eliza Russell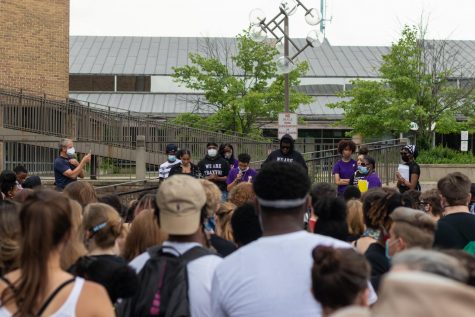 To understand the nationwide protests against police violence and understand how collective action is mobilized, one must examine the stories and identities of the individual protesters, like freshman Eliza Russell. This past summer, amidst the internet's social revolution, they came out as nonbinary. It has not been easy for them. "My parents misgender me a lot, sometimes on accident and sometimes intentionally. Some of my teachers are good about it, but some of them use 'she/her' for me and it's very uncomfortable," they said.
Russell's dance studio is their "happy place" because "everyone there is really chill, [and] very accepting." They started dancing in preschool at The Academy of Movement and Music. In the third grade, they joined their current studio, TranscenDance Studios. "I started with one or two classes just because I thought it would be fun, but then I started taking it more seriously around fifth and sixth grade, and I'm really happy I did because it's such a nice environment," they said. Dancing, they said, was a way of escape. " I can take all of the emotions I have bottled up and express them through dance," they explained.
Russell likens the struggle for the recognition of their gender identity to the struggle of victims of police brutality. "I just kind of feel ignored sometimes," said Russell. "People misgender me without thinking about it, and they don't care. I think that's how the victims of police brutality are being treated. I mean, the neighbor's drywall got justice faster than Breonna Taylor did. It just seems like no one cares at all."
Seeking to be a force for positive change, Russell attended an in-person protest this summer: a peaceful protest outside of the Village Hall that concluded in a walk to the Austin neighborhood of Chicago. "I didn't really know much about the history of how there came to be a mostly white, upper-middle-class, suburban neighborhood and a not-as-wealthy, mainly black, urban neighborhood right next to each other," they said, characterizing the protest as a 'learning experience'.
The protesters, united by their shared morality, quickly formed a sense of community. "At both protests, people didn't necessarily know each other, but we all felt comfortable just talking to each other and asking questions," they said. One moment in the Austin protest particularly resonated with them: In silence, the protestors together took a knee for the same amount of time that Derek Chauvin kneeled on George Floyd's neck, fatally choking him. Given their dance background, it makes sense that they'd feel especially comfortable expressing a cry for justice through their favorite artistic medium: movement.
They continue to feel invigorated by searching for justice for the victims. "I definitely thought the murders of George Floyd and Breonna Taylor and Tony McDade and so many other people were absolutely unjust, and I just think it's ridiculous that—most specifically in the Breonna Taylor case—the cops are getting off the hook," they said.
Russell encourages students to attend a protest. "It's a good opportunity to get informed, and it's a great way to show solidarity," they emphasized.