Girls volleyball adjusts after shortened season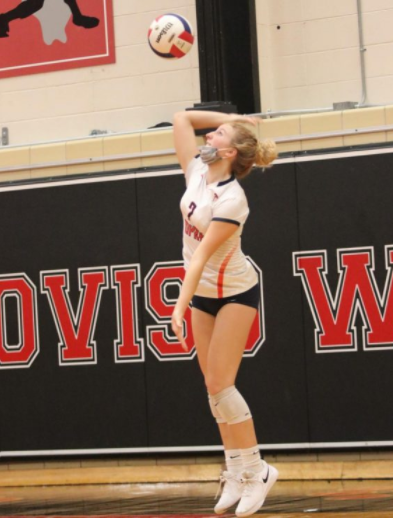 As OPRF's sports start to return to some kind of normalcy, the girl's volleyball team is back and ready to fight for the state title.
After having to adjust to a shortened and chaotic spring season last year, the team is ready to move forward from the mess that was their 2020 season.
Due to the COVID-19 pandemic, volleyball was pushed back from the fall to the spring. This shift took away their pre-season and shortened the regular season. With the season being cut short, most players were not able to play towards the end of it because of other obligations, like their club teams, or because it overlapped with another sport.
"We didn't have any tournaments or playoffs due to COVID, and even missed out on a couple of our regular games because we would have to quarantine," said Kelly Collins, head coach of the varsity team. However, even through the chaos, the team secured a 5-5 record.
This season, the team is still working on adjusting to playing with COVID restrictions. Even with fewer limitations than last year, the masks are still hard to play with especially during intense games in overheating gyms.
"In the last tournament we played in, the gyms were over 100 degrees, which would have been horrible even without masks," Collins said.
Nevertheless, the team is happy to have their fans and normal schedule back. "I think the highlight of this year for me is being able to have fans back," said Cate Wollmuth, senior and team captain. "It has been super fun having people come support us."
Along with the obvious changes brought upon by COVID, the team is structured much differently this year. More young talent is on the team than years previous, with only four seniors. However, the team does not believe this difference is a negative. Grace Nelson, a sophomore on varsity this year, said, "I feel like my age doesn't really matter because everyone on the team is so welcoming,"
The team is hoping to make it past the first round of sectionals, something that has not been difficult for the team in the past. Collins said they are sticking with their goal of being contenders to win their conference, and being top 10 in the tournaments they compete in.
Leave a Comment