OPRF spoken word student wins prestigious national poetry award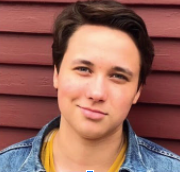 In room 3348, the creative minds of the Spoken Word Club meet to write and improve their poetry. The room is small, about six people wide. Across from a poster of famous boxer Muhammad Ali lies a cabinet full of old books and small stuffed animals. To the right of the cabinet is a wall of photos of Club Sponsors Peter Kahn and Christian Robinson with their students. Doodles of various made-up characters, brainstorms forming potential poetry topics, and important dates sprawl on the whiteboard. A relaxing energy envelops the classroom; students and teachers alike joke around about past events and personal stories. They collaborate on poetic ideas and improvement, throwing around ideas on how to get better at writing poetry.
Kahn and Robinson help develop students' writing skills, public speaking, and confidence. One senior student of particular note and winner of the prestigious National Student Poet Award is R.C. Davis. The award is granted to one select student from five regions of the nation, and candidates are selected out of 19,000 students. Students submit their poems for judgment and only five total are selected. Winners take home a cash prize as well as prestige. Davis was told a week before the official announcement. "When I found out officially, it was a feeling of relief," he said.
Davis has been writing poetry since elementary school, but he only began to take it seriously when he joined Spoken Word. ¨Mr. Kahn and Mr. Robinson came to my English class. I was intimidated but intrigued, so I went to a meeting. It was terrifying, (but) I stuck with it,¨ he said.
Davis says his poetry has improved incredibly over the years. One specific improvement he cites is his ability to write more natural-sounding poems. "I remember the first poem that I was really proud of (as a freshman). I put a ton of effort into it. It was a good poem but looking back at it now I was definitely trying to use the most interesting sounding word… and now I have let go of that."
Kahn and Robinson also attested to Davis's talent and improvement. "He is beyond his years. He has improved on his acceptance of feedback and being able to implement it," Robinson said.
He credits this improvement to a variety of factors, namely Kahn and Robinson's dedication to improving his poetry and ability to accept and use criticism.
Davis said that "coming in being this incredibly awkward 14-year-old, and having a space where I'm taken seriously as a writer." Continued editing at sharpening the meaning of and improving his writing has made the Spoken Word office the focal point of Davis's career.
"It's like, 'Wow, I have a home here,"' Davis said.
Leave a Comment