Book Review: Fresh Ink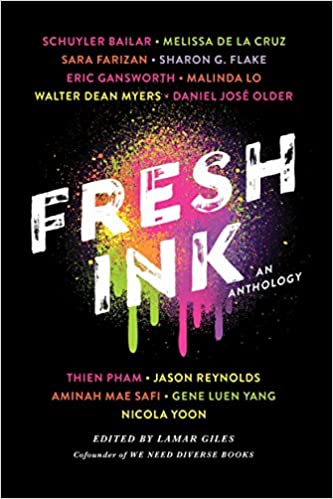 What do you think of when a teacher introduces the book you'll be reading in English class? Chances are, you're not excited. You might think that it'll be bad, or worse, boring and long. That certainly is the case for a few books. My mind immediately goes to "Romeo and Juilet" as a freshman, or "Jane Eyre" as a sophomore. They are both good in their own ways, but to me and a good number of my classmates, they were long, boring, and seemingly unnecessary. However, with "Fresh Ink," the opposite is true.
"Fresh Ink" is an anthology of short stories about people who are not "the norm." Authors include Jason Reynolds, Melissa de la Cruz, and Schuyler Bailar. Stories include "A Stranger at the Bochinche," a steampunk story in second person, and "One Voice," about an undocumented Filipino-American dealing with hate speech. There is a graphic novel chapter and a chapter formatted like the script for a play.
Tess Carr, a freshman in English teacher Andrew Brown's class, said her favorite story in the book is "Meet Cute," Malinda Lo's story about two queer women meeting. Carr said "Despite reading a handful of racially diverse books" in previous English classes, "I don't remember reading any with LGBTQ+ representation; I love the representation." The book's LGBTQ+ representation also includes Sara Farizan's story "Why I Learned to Cook" about Yasi, a girl who learns to cook for her girlfriend.
Carr says "Fresh Ink" is "pretty good," which for English books is a rousing endorsement. One reason? She said it's "not hard to annotate," and that she just "writes down (her) thoughts."
More importantly to Carr, however, is that "it's good to read books that have a lot of representation from communities that are under-represented,"
Brown agrees. "These are voices that are traditionally not represented in the English cannon," he says.
Ellie Smith, another freshman reading "Fresh Ink," says they're reading the book "to create an environment where diverse voices are heard and represented." Reading about these minorities helps fellow minorities feel seen, and it exposes non-minority students to other perspectives and beliefs.
"Fresh Ink" is also a good way to learn about characterization, metaphors, themes, and everything else that comes with an English book. Carr says that "finding themes is an important part of the assignments." Smith says she "loved the way Jason Reynolds wove imagery and metaphor" into the first story, "Eraser Tattoo".
Brown uses "Fresh Ink" in his class to "begin conversations about characterization, inferences, and why the author does what they do," he says. "It's a perfect way to begin freshman year," he adds, and I have to agree. "Fresh Ink" is an interesting way to learn about rhetorical devices and writing techniques.
And at least if a lot of the English books later on in the year aren't the best at representation, starting out with a book everybody can find relatable in one form or another gets people excited about English. "Fresh Ink" lets students know this degree of representation in literature exists, if you go looking for it.
Leave a Comment