Remembering English teacher Rich Zabransky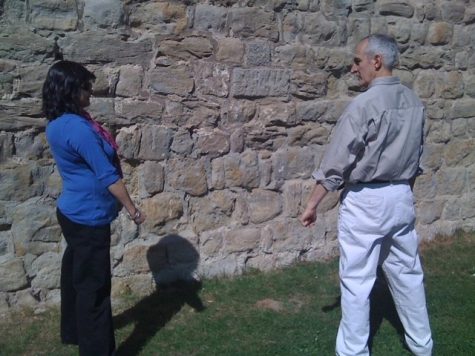 Rena Mazumdar
I had the true honor of working with Rich Zabransky for many years. Although we weren't in the same department, he in English and I in World Languages, our paths crossed on many occasions. I would describe him as a modern day Renaissance Man. His talents were enormous and exceptionally diverse.
His love of literature was my first initiation to the life of this creative man. He shared several books with me over the years, and it was such a source of joy and gratitude to have his original copies with his personal annotations! I cherish the times we would discuss themes, writing styles, and our general love of literature. I was honored to share some of my favorite authors with him, too, and as always, he had something uplifting to say about my choice of books. He allowed the pupil to become the teacher.
Rich was a lover of all things French. He also had a black belt in martial arts and was very conscientious about maintaining good physical fitness. So it only made sense that early on in our friendship we would exchange French lessons for Karate lessons. I gave him instructions on French language while he taught me how to do Kata's (proper stances for Karate). We would laugh out loud at his not-so-perfect French pronunciation and my very awkward Kata postures. I'll never forget those moments practicing kicks while speaking French in my classroom!
Z, as we affectionately called him, was a chaperone on one of my student exchange trips to France. He made friends in France singing Edith Piaf songs and charming the moms with his infectious smile. He was great with the kids, always joking and telling anecdotal stories. For those of you who knew him, you know he had somewhat vampiric eating habits, meaning his appetite would arrive after dark. Z would fast all day, but when evening came, there was never a scrap of food left on anyone's plates when Z was dining with us. Whatever we didn't eat, Z would.
Above all, Rich Zabransky was a good, honest friend and a master teacher. Having pretenses does not work in the classroom and this he understood from the beginning. He was always himself, the true literary man, the guitarist, the black belt, the Francophile, the White Sox fan, a son, and mentor to thousands of students. It was his passion for these things, and much more, that he brought to the classroom. He was a man who inspired so many of us with his brilliance, his sense of humor, and his love for humanity. Quel homme merveilleux!
Brendan Lee
Mr. Zabransky (who I nicknamed Z Force) was a lovely man, both a colleague and good friend. He was also a member of the English Department softball team back in the day and he was a good fielder and a big hitter. I heard about his passing after I returned from a trip to the East Coast this summer. It was very hard for us to process, especially for his many close friends in the English Department and for other colleagues like Ms. Mazumdar, Ms. Farley, Ms. Howell, and Ms. Nash. My old lunch conversations with Z Force — as he would munch on his daily bowl of oatmeal, along with his dry sense of humor, his big grin — provided me with both a daily source of joy and inspiration.
I had random meetings with him over the years since his retirement in 2010. I was getting some broccoli in the produce section of a local grocery store when, over my shoulder, I heard someone quietly say, "I was just thinking of you!" And I turned and there was Z Force with his enormous grin … and it was funny that I saw him in the broccoli section because one of his many eccentricities was buying huge heads of broccoli … he would eat raw broccoli for dinner (holding the stalk as someone might hold cotton candy or a caramel apple) and later (usually in a public park) he would practice his martial arts on the leftover broccoli stalks. The last time I saw him, we were singing songs and hanging out in an apartment on a cold winter night. I remember Z Force playing guitar and singing a lovely version of "Sam Stone" by John Prine. May flights of angels sing him to his rest!
Gordon Budimirovic
The man made me realize that I wanted to be a teacher. As a former student of his, I can say that it was clear he loved what he did. He loved being in the classroom, telling stories, working with young people. He loved talking about literature, and made it seem completely unpretentious, accessible, and down to earth in that way only he knew how. Charming yet aloof.
Leave a Comment