Three students' experience at the Glasgow climate conference
COP26 (26th Conference Of the Parties) was the United Nations' 26th annual summit on climate change, which took place in Glasgow, Scotland. Over 20,000 people attended, including the three of us.
We were fortunate enough to attend three weeks ago with an Oak Park sustainability nonprofit, Seven Generations Ahead (SGA), as members of its youth group, It's Our Future.
We began our trip sightseeing, trying local foods, visiting a flea market, and preparing for COP. While one of us collected a badge and daily COVID-19 tests to enter the conference, the rest of us went on an adventure of our own.
On our way to the pick up locations for the tests and badge, we got on the wrong bus. What should have taken only an hour resulted in an unintended trip to Motherwell, a rural suburb of Glasgow. Without service, GPS, knowledge of the bus system, or local currency, we eventually made it back to Glasgow, only 40 minutes late to the group logistics meeting before the first day of the conference.
"The few youth gravitated to one another and formed a community."
On the first official day of COP, half of us headed to the Blue Zone while the rest explored the Green Zone. Walking into the Green Zone (the more interactive science museum area), we were filled with wonder at how many things there were to see and do. Exhibits from green companies across the UK had experts eager to tell you about their latest technologies and discoveries. We signed pledges to be more eco-friendly, used a VR headset to see the Earth from space, touched arctic ice, and signed our names on the world's largest wind turbine.
Meanwhile, the more restrictive Blue Zone was filled with press, observers from NGOs and universities, and delegates representing their countries in negotiations. It was hard not to feel out of place among the formally dressed adults, but the few youth gravitated to one another and formed a community. We held our own support groups, breakfasts, and protests. Having this group of international youth made us feel less alone in the climate movement.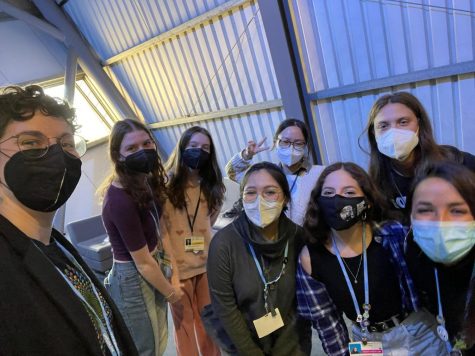 We spent most of the first day exploring the conference, in awe of the number of influential people we were near. We saw John Kerry speak on America's climate goals at the US pavilion, and we arrived just in time to see Bill Gates inside one of the action rooms.
The second day was even more action-packed. It began with an event where the delegate from Tonga, a small island nation in Oceania, spoke about a project which would build a new island on top of the existing one as a way to escape rising sea levels. We interviewed the delegate after his talk and were amazed by his unique perspectives and how sincerely he cared about the climate crisis.
On day four, we headed to an informal gathering of youth which allowed us to slow down and openly discuss our conference experiences. After the gathering, two of us were invited to interview with the Royal College of Psychiatry, where we reflected on our climate anxiety and demonization of youth in the media.
That night, our group held a livestream event for people in the US in collaboration with the One Earth Film Festival. At the end of the livestream, we gave tips for other youth interested in environmentalism: Get involved in a local group, learn as much as you can, and spend time outside.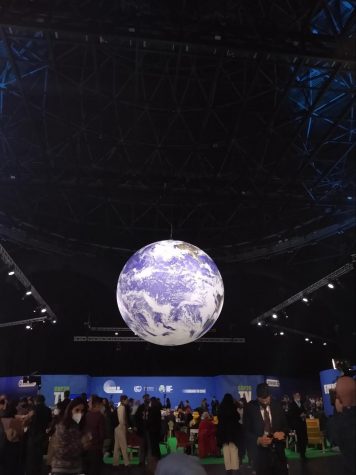 "We listened to a speech from former Vice President Al Gore which took us through every possible emotion."
On the final day, two of us went back to the Blue Zone, where we listened to a speech from former Vice President Al Gore which took us through every possible emotion and level of hope for the future of humanity. His 90-minute presentation was filled with gut-wrenching statistics and layered with stories of tragedy and hope. We were shocked to find out that if the world reaches true net zero CO2 emissions, global temperatures would stop increasing in less than five years; we had always thought that the negative impacts of human emissions were nearly irreversible at this point.
After a week of underwhelming country agreements and years of slowly losing hope for our futures, the speech rejuvenated our passion for the climate movement.
The conference was an amazing opportunity to converse with people from all across the world, despite our inability to witness the negotiation of actual decisions and policies. As some of the youngest people there, it was frustrating to (feel) tokenized and frequently used in interviews for our age. However, attending COP26 was a life-changing experience, and we would take the opportunity to return in a heartbeat.
Leave a Comment