VEX team qualifies for state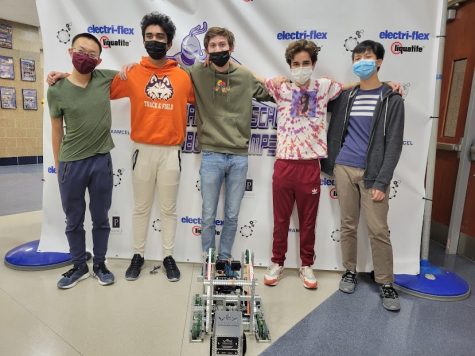 In 25th place, it didn't seem likely that Irish Wristwatch, a senior OPRF Robotics team, would make their way to the Illinois State VEX Robotics Championships. The team had made it through qualifications at Lake Park High School, formed an alliance with the 19th place team, and progressed steadily through the elimination rounds, facing against other alliances.
It seemed as though they would never hold a place at state championships since the first and second placeholders were so advanced. However, those two teams, the Orange Mambas and Nitro from Batavia High School, were disqualified for breaking a rule, which opened a pathway for the team to seize victory.
"We had almost pulled an all-nighter to prepare."

Zephy Roe, team member
Having made it to the finals, the team, consisting of seniors Zephy Roe, Cory Yu, Zeno Chiang, Shankar Kalidindi, Kellan Billadeau, and Evan Dominguez, didn't let up. In the last 10 seconds of the round, Dominguez, the driver of the team, grabbed a key item from the other team and won the match, qualifying them for the state tournament.
On the day of the tournament, having won after working very hard, the team felt a sense of exhausted relief. "We had been at the venue for 11 hours already, and we had almost pulled an all-nighter to prepare," says Roe.
In preparation for the season, the teams are given a challenge by VEX Robotics, the company that manages the events. They must build a robot that works for this challenge. The OPRF Robotics Club has eight competitive teams and a separate group of students who do not compete.
Kelsey Kaiser, the robotics club sponsor, helps transport teams, purchase needed parts, register them for competitions, and supervise. "They build the robot and do all the work themselves," she said. "(Irish Wristwatch has) a very high work ethic and dedication to making the most competitive robot possible. Everyone on the team serves a purpose and contributes to their success in some way."
"They have a very high work ethic and dedication to making the most competitive robot possible."

Kelsey Kaiser, VEX Sponsor
Irish Wristwatch is currently preparing for the VEX Robotics state tournament, which they will compete in this spring. They have started implementing their most recent findings; they found that the less complex robots are often the more effective ones, but still require their own intricacies. They plan to further improve their programming of the robot so it is able to do more in autonomous rounds, which is when the bot follows a given code rather than being controlled by a driver. Irish Wristwatch also plans to improve the robot's abilities all around.
If the team wins the state title, they will move on to the international competition. The OPRF robotics team Dreadnaught won state championships in the 2016-17 season. Following in their footsteps, Irish Wristwatch remains confident in their ability to compete. "We're going to give 100 percent," says Yu, "but we will see."
Leave a Comment