OPRF works to keep school open amid Omicron surge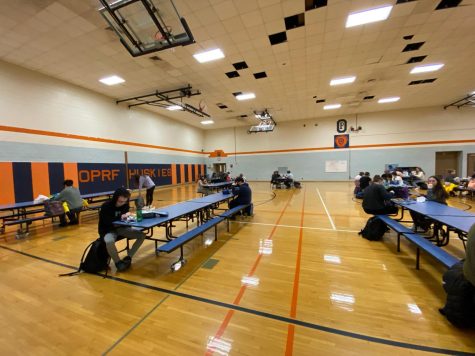 As the highly-infectious Omicron variant drove Cook County case numbers almost three times past their previous peak, OPRF has worked to keep its building open for in-person learning.
The school's COVID dashboard reported 53 employees and 296 students tested positive from Dec. 31 to Jan. 20.
While OPRF has been able to stay in-person, Superintendent Greg Johnson says this wasn't always a given. "The most challenging day for us was Friday (Jan.) 7, when our student attendance rate was down to less than 84%," he said. Teachers, secretaries, and security were utilized to fill in the gaps. "We know for social-emotional and mental health, being in-person is much better than going remote."
The Village's website states "school administrators have the ultimate authority" to put COVID precautions in place, including a potential switch to remote learning. The site also states "the Oak Park Health Department provides consultation and recommendations, but cannot dictate school actions." While Oak Park Health Director Theresa Chapple-McGruder says she finds the incidence of in-school spread concerning, her health department has not directed OPRF to go remote. Johnson indicated over winter break that the school would not switch to remote unless staffing shortages require it.
The decision to stay in person has worked out, as school COVID cases have declined and absences have become more manageable.
"We've begun to see student attendance above 90% (around the week of Jan. 17), and the number of subs needed has stabilized to a much more manageable level," Johnson said.
OPRF's COVID team struggled with contact tracing at the semester's start, although it has improved. "We were able to make several changes to how we notified families of being a close contact or a positive case, automatizing those communication components. This helped the team to get caught up on the backlog of contact tracing, enabling us to keep the school open," Johnson said.
The strain of absences has been further relieved due to updated health guidance. "We are in frequent collaboration with (the Oak Park Health Department) and are following the new IDPH guidance that recently came out. It's this guidance that allowed (us) to shorten quarantine and isolation periods to five days," Johnson said.
This mandatory isolation period for those testing positive was previously ten days. Close contacts have to quarantine for five days unless they meet vaccine guidelines (including boosters for those 18 and up and eligible) or had COVID within the last 90 days.
Junior Lee Chaloemtiarana says that starting the semester in isolation hasn't been easy.
While teachers have done a "really good job" keeping up with communication, Chaloemtiarana said classwork has been a struggle. "It is really difficult to learn AP Calc over a glitchy Zoom call where you can't even see the board," she says.
"It feels sometimes unrealistic to try and keep up with my work when I have half the resources a normal student has," Chaloemtiarana added.
Students have had mixed views and concerns about the decision to stay in-person. "Actually, I kind of prefer going online. Especially since we would be going back with the knowledge of the first pandemic so it would be less scrambled," said junior Rowan Solari.
Junior Michael Goto was kept home by his parents due to their concern about a potential spike in cases after winter break. He did not enjoy his time at home as it had unique challenges. "It felt hopeless just being stuck at home thinking, 'Will this be the new normal?'" he said. While
Goto prefers being back at school, he would not be averse to a shutdown caused by increasing metrics.
To avoid overcrowding during lunch, the school has allowed off-campus lunch for freshmen and sophomores and has made the 1 East Gym a socially distanced lunch space. Students also now have more space to eat in the newly renovated south cafeteria.
Johnson says despite initial issues, saliva testing has gone "very well. We're testing about 800-900 students each week," he said. Screening is mandatory for in-season athletes.
Moving forward, "decreased mitigations are really up to guidance we get from Oak Park Public Health and the state of Illinois," Johnson said. However, "if cases go up and if at any point it's clear that we simply don't have the adults needed in the building to maintain in-person learning, we will definitely shift to remote."
Johnson says that while the pandemic "has taken its toll on our morale," he has "been amazed with how our faculty, staff, and students have responded. The school really pulled together and made it possible, which is a great thing."
Leave a Comment