Chess team excels at state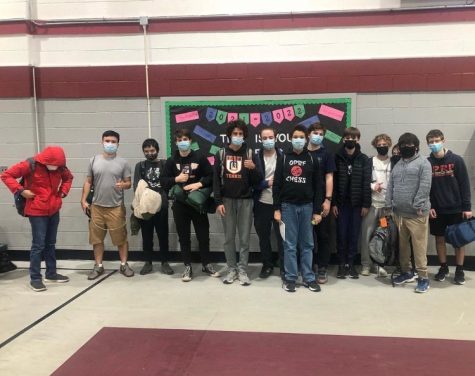 In their best performance at the IHSA state tournament since 1997, the OPRF chess team placed 16th out of 128 schools Feb. 11.
Prior to the state tournament, chess team members were coached over Zoom by chess National Master William Aramil, who won the chess Collegiate Championship in 2004 and has authored books about chess strategies.
IHSA chess tournaments are unique. Phillip Linninger, head coach of the OPRF chess team who graduated from OPRF in 2015, called it the "best chess tournament in the world. The whole format, the scoring, is completely unique to Illinois," Linninger says. "The school's top eight players represent the school and play the other school's top eight players."
"The score is weighed by how strong the best players are. Board One for example, where the school's strongest player plays, is worth 12 points for a win, and then it goes all the way down to Board Eight, which is worth five points for a win," Linninger says.
Linninger says competing in chess tournaments as a team is a completely different environment than competing as an individual. "In a team tournament, there are other people counting on you. There's a lot more pressure to perform."
Linninger said he was especially impressed by the performance of Junior Mateo Nery, who won six of his seven games, and drew one. Nery was awarded a gold medal at the competition.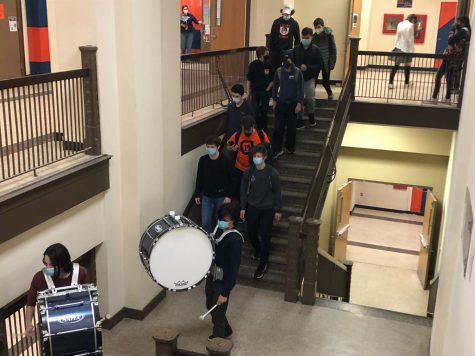 Junior Nate Hiestand, first board for the OPRF chess team, has been playing chess since he was 7, when his dad introduced him to the game. Ever since then, he has played consistently. Hiestand played most of his early chess games on chess.com, where he would compete against other online players. "I would have to leave when my mom would take me shopping with her. I'd message my opponents and say, 'Can you please accept a draw? Because my mom is taking me shopping,'" Hiestand said.
Hiestand first competed in chess tournaments as an elementary schooler, at which time he lived in Palatine. "There were chess tournaments for younger kids in Palatine," Hiestand said. "I have on my desk the trophies I got from those tournaments."
When Hiestand moved to Oak Park at 13, he became involved in some chess summer camps hosted by OPRF and got to know the OPRF chess program well. Hiestand finally switched to OPRF, and after three years in the chess program, he plays first board for the chess team.
The state tournament took place in Peoria in the Peoria Civic Center. Hiestand described it as a massive event. "Eight people on a team and there's 126 teams, that's over 1,000 people, so it has to be a sizable room. And there's more people that weren't on the team that came."
Senior Sam Layton, eighth board for the OPRF chess team, said the team synergizes well. "Everyone treats each other respectfully and helps each other improve their game," Layton said.
During the two days of the tournament, the chess team ordered delivery from local restaurants; Steak and Shake became a go-to. "A lot of people got Steak and Shake … It hit the spot," Layton said.
Layton didn't join the chess club until his junior year. He found the club to be engaging, and the game to be relaxing. "More people should try chess because I think more people would be surprised at how enjoyable it is. It seems stale on the outside. But it is fun once you start playing consistently."
Leave a Comment