OPRF aims to "sweep" away excessive tardies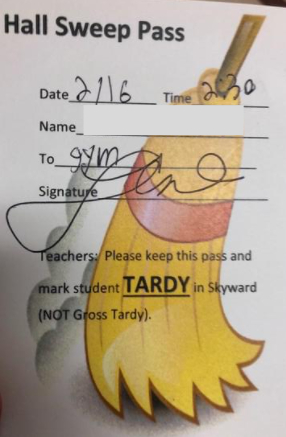 At the start of the second semester, the OPRF administration introduced students to a new set of tardy procedures.
The need for an updated tardy policy became apparent during the first semester. "I've been a dean for 10 years and I probably saw more hall-wandering first semester when students should have been in class than I've ever seen before," said Jonathan Silver, dean of students.
Principal Lynda Parker decided upon the new tardy policies to create "a sense of urgency" for students to get to class before the second bell. "The tardy procedure is just telling you what happens if you are tardy to a class," Parker says, referring to a policy students learned of through the daily bulletin. This procedure dictates that five tardies add up to one unexcused absence. Students may lose credit if they rack up six unexcused absences in one class.
The second more drastic policy change was the addition of the "sweep" procedure. During certain passing periods of the day, campus safety and support, deans, and Parker herself are seen in the halls of one specific floor instructing students to get to class. As soon as the bell rings, all students remaining in the halls are then escorted to a room where one of the deans explains the ramifications of tardiness and the intention behind the sweep procedure. Parker says the entire process takes under 10 minutes.
"We had been a year and a half away from this building," Parker says. "We needed something to help us get back into the patterns of school, and that's all (the sweep procedure) is meant to be."
Parker also sought to decrease the number of distractions caused by tardiness. "Teachers… found themselves having to (repeat themselves) for students who were coming in late," Parker said.
Junior Mia Christmon, who was swept last month, said tensions can be high during sweeps. "The group of kids that got swept were mad," she said. The deans "were a little bit rude," Christmon adds, although she acknowledges that "kids were being rude too."
"We needed something to help us get back into the patterns of school."

—Lynda Parker, principal
Silver, however, who also plays an active role in sweeps, says in recent weeks students have grown more accustomed to the procedure. "Students, whether they agree with the policy or not, at least know what it is and why it's in place," he says.
"It's very rare that we see the same students in sweeps," Parker says, attesting to the effectiveness of the procedure.
Of students who are repeatedly tardy, Silver says that "we want to try and do things more on the front end like preventative and intervention-wise … If we do get the repeat students then that gives us a chance to … talk to the students more and find out if there's anything we can do to help."
As for the permanence of the sweeps system, Silver says the policy will likely last for the rest of the school year, but he and Parker are open to exploring further additions or alternatives to the current policy.
"I'm not married to any one thing, but I do need ideas on how we can make it better," says Parker. Parker holds meetings open to students in the Student Activities Center periods five and six on Tuesdays and period four on Thursdays.
Leave a Comment