Juniors tour house that inspired "The Great Gatsby"
When juniors Joe Haarvei and Molly Valentine drove to Lake Forest to visit a historical house for extra credit earlier this month, they weren't expecting to be able to tour the 7,424-square-foot mansion.
Their AP Literature and Composition teacher, Kathy Tsilimigras, had recently read a Town & Country Magazine article about the historical Lake Forest mansion, the childhood home of socialite Ginevra King.
The heiress met F. Scott Fitzgerald, then a student at Princeton University, in his hometown of St. Paul, Minnesota in 1915. She shared a romance with Fitzgerald until 1917, but left the middle-class Fitzgerald to marry the wealthy William Mitchell, who, like King, belonged to a prominent Chicago family.
Many believe King, not the more famous Zelda Fitzgerald, was the inspiration for F. Scott Fitzgerald's famous character, Daisy Buchanan from "The Great Gatsby," along with characters in other novels and short stories he wrote.
King "had a voice that was thrilling (just as) Daisy is described as having," said Tsilimigras. "She had that femininity, that delicateness that Zelda lacked … I think (King) is where the inspiration (for Daisy) really came from."
Tsilimigras shared the Town & Country article with her students, offering two extra credit points to students who wrote a short response to the article. After seeing two classmates receive 10 points extra credit for visiting the house, Haarvei and Valentine decided to see the house as well.
After driving for about 45 minutes in the rain and nearly getting lost, Haarvei and Valentine pulled up to the massive white house.
"We were standing in the driveway, making a TikTok because we thought our teacher would see the video and (we thought) that we wouldn't have to do a write-up," said Valentine. "That was our plan, and we were maybe there for three minutes."
"Less than that," said Haarvei. "I don't want to sound creepy."
General contractor Jeanette Hodgkinson, who owns and recently restored the house, saw the timespan differently: "They were outside for a very long time," she said. "It was raining or snowing and they just looked really dedicated. So I opened the door and yelled 'Do you want to see the inside?'… We've not let any other high school students in. They seemed very appreciative. It was cool to see someone their age appreciate it and understand the history."
The house was "really nice," said Haarvei. The students were especially impressed by a massive chandelier in the foyer, which Hodgkinson had replicated based on old photographs of the house she found online.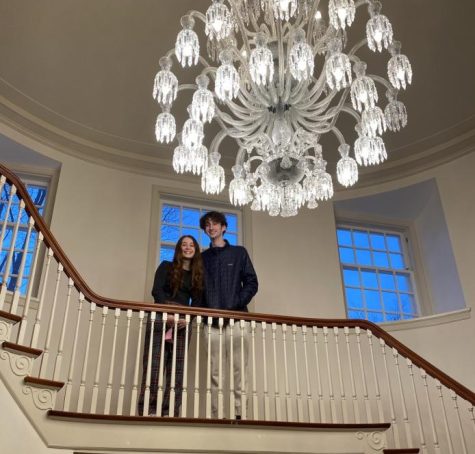 "They took us in the library and it was hardwood (and had) these big, tall bookshelves," said Valentine. "It was really clean in there, too. I felt bad I didn't take off my shoes."
When Hodgkinson and her husband originally placed an offer on the house in 2018, they didn't know about the history. After a local historian contacted them, they decided to restore the house instead of renovating it.
"When you're restoring a house you have to follow certain guidelines," said Hodgkinson. "The historical society has a say as to what happens on the interior and exterior of the home." Besides an updated kitchen and a new bathroom, "everything else is as original as we found it," said Hodgkinson.
To Haarvei, Valentine, and Hodgkinson, one room in particular seems to come straight out of "The Great Gatsby."
Haarvei and Valentine could see the opening scene of the book, "when Daisy and Jordan (are) lying on the couches and the curtains are fluttering with all the windows open," in the parlor, which has three sets of French doors and floor-to-ceiling curtains.
Just like in "The Great Gatsby," parties at King's house would flow from room to room, through the parlor's open French doors to the patio and the garden. "If you watch the original movie (of the novel), the house looks just like ours," said Hodgkinson. "It's just a replica."
"The thing that excited me the most is that (Joe and Molly) did this entirely on their own," said Tsilimigras. "It wasn't something that I asked them to do. They took the initiative to do something because they were so curious about it. And it all came from the novel, from the literature."
Being in a historical setting "just brings literature to life," said Tsilimigras. "And there's nothing better than that."
View Comments (1)