Stage crew offers "something for everyone"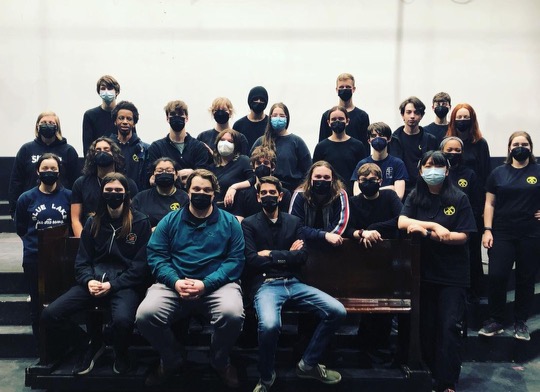 Behind all the productions held in the auditoriums of OPRF is Stage Crew, a club run by teachers Teslen Sadowski and Christopher Scholtens. 
"There's really something for everyone," said Sadowski, the performing arts facilities manager and theater technology and design teacher. The club creates and manages the set for every event held in either the main auditorium or the Little Theatre, from shows to group meetings. To do this, there are different departments: Carpentry, Lighting & Electricity, Sound, Props, Painting & Backgrounds, Rigging, and more. 
Students can put as much or as little time into the club as they want, choosing to attend when they want or going so far as to become a senior foreman who helps manage the club. Some skills require prerequisite courses or certification, like certain rigging opportunities or lighting situations, but most skills are taught in the club. Students can be taught how to use woodworking tools or how to make props. "The students pretty much run the events," Sadowski said. "We mostly provide guidance or are there if they have questions."
From all different perspectives, members had only good things to say. "It's a creative outlet and a community that gets things done at the same time," said sophomore and member of the club Emily Eastman. When doing sound, "you're learning a new language, kind of, so when you go to see the shows later on, you have a greater appreciation for it because you know all the work that was put in," said Eastman.
Charlotte Boultinghouse, a junior crew chief, explained that Stage Crew is sort of a nook for students looking for a place to belong. "I found a home in Stage Crew, and I want to give the same opportunity to other people," she said.
One of the three senior foremen, Jonny Hugh, said that "while you do have to put a decent bit of effort in, it's also a great source of accomplishment and pride once your work is finished." Echoing Eastman and Boultinghouse, Hugh said "what I enjoy most is not only the creative outlet that it provides, but also the tight-knit community created by all of the members."
"Getting to see students learn new things, getting to see that 'aha'-moment when they figure something out, is one of my favorite parts," said Christoper Scholtens, the assistant auditorium manager. "Some of our students we see all four years, so you get to see that student develop in a particular profession. As they grow, they take on more technically advanced assignments, which tends to help me learn more as well."
In one of the more recent shows at OPRF, "Sister Act," the role of master electrician & assistant lighting director was given to junior Josie Tikkanen. She expressed her enjoyment of the opportunity, explaining there were a lot of new things to learn. For example, the show used LED light strips, and to get the required effect, they had to make it so they could control each light from the control board, which was something Tikkanen had never done before. "I learned a lot more lighting design skills. Before, I was kind of like 'Ooh, fun colors!' but then I realized that if I put this color on the stage, it will drown people out or won't focus on a specific person," she said.
For those looking to join Stage Crew, they meet every day after school behind the auditorium. There is also a Stage Crew Remind set up, as well as a Google Classroom. Email Teslen Sadowski ([email protected]) or Chris Scholtens ([email protected]) for more information.
View Comments(1)