Senior athletes lead discussion for next phase in Imagine Plan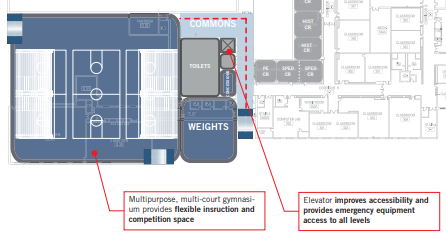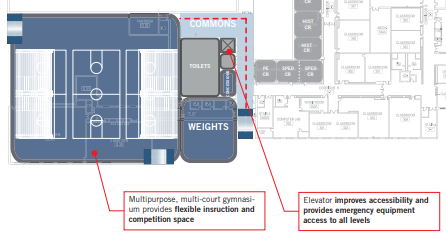 OPRF has moved to prepping for Project 2 of the Imagine OPRF renovations. While there are contractors and administrators planning for them, the renovations have also been led by senior athletes.
Project 2 of the Imagine plan accounts for renovations and safety improvements to the south part of campus, where all of the athletic facilities are located. "Project 2 would address health and safety concerns, including falling ceiling tiles, leaky windows, inadequate ventilation, lack of air conditioning, buckets filled with dirty water from the leaking roof, mold, and large fixed objects that pose a potential risk of collision," says Karin Sullivan, executive director of communications.
As part of the programming phase, Athletic Director Nicole Ebsen set up meetings during lunch periods for senior athletes to meet with the FGM architects responsible for the renovations. She reached out to varsity head coaches to invite their seniors and express their requests.
"The seniors have the most diverse experience in going to other places and seeing what other schools have," she says. "I think it was most important to get those students who can relate back to a normal time when they played a normal schedule."
Seniors of multiple sports expressed their experience with OPRF athletic facilities. "I talked about how we (the field hockey team) don't have a locker room," says field hockey captain Shealy Callahan. "That's something our team would really benefit from."
Senior Maddox Neumann also went to the meeting, representing baseball and boys golf. "I attended the meeting because there have been many times as both an athlete and PE student where our plans were obstructed because facilities were unavailable."
Neumann mentioned how some of his golf teammates broke their bags because they couldn't fit them in the lockers. He also requested more indoor practice space for baseball. "We never see any indoor live at-bats because we don't have a cage that's long enough," he says. "We can't take game-like infield and outfield because of the surface of the fieldhouse."
Throughout the students' request, members of FGM listened attentively to students. "The adults listening to the students were very understanding and wanted to hear all of the issues the athletic facilities have," says Neumann.
"I think it was important to hear the context of the conversation," says Ebsen. "I think hearing it with the architects and people that are going to be responsible for creating it was really helpful."
Board members discussed Project 2's plan to tear down the existing structures east of the field house and south of door 2 and replace them with a new four-story structure with a full basement at a March 27 board meeting. This would include a new weight room, pool, locker areas, and multipurpose gymnasium.
However, reconstructing a new field house with a new indoor track is still up for discussion.
"I specifically mentioned (at the lunch meeting) that we don't have a regulation indoor or outdoor track," says senior track and field and cross country athlete Lou DeLano. "If we had a regulation indoor track, less of our athletes would get injured."
The plan also aims to provide greater accessibility for the school's athletic facilities. "There is no elevator in this wing of the building, so the new one would make these spaces accessible to anyone with mobility issues," Sullivan said. "Locker rooms would have private changing spaces, which students of all genders, but especially our gender-nonconforming students, identify as a problem."
The estimated costs of the exterior and interior of Project 2, given by FGM architects, is over $51 million. The biggest costs would be the east and west pool, which individually have an estimated cost of above $6 million without soft costs.
Finalizing plans for the athletic renovations are still far away, with the schematics scheduled to be approved Oct. 28 and construction years from now. "The soonest Project 2 could break ground would be summer 2024," says Sullivan.
Therefore, the seniors who gave their input will not see it executed until well after they graduate.
"Giving up a lunch period to talk to adults about things you may not even see come to fruition in their time here is really challenging," says Ebsen. "So, I'm really appreciative that the seniors came out and had some honest conversations."
News Editor Jackson Hassler contributed to this report.
Leave a Comment