Carjackings break into Oak Park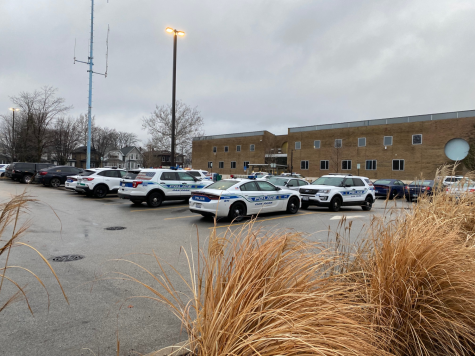 Carjackings have spiked dramatically in Oak Park through 2021. Oak Park had seen 25 successful carjackings and four attempted carjackings during 2021. In 2020, Oak Park had seen 16 Vehicular Hijackings, compared to 12 in 2019.
Senior Isaiah Kent says he was parked on a side street of Chicago's Austin neighborhood during a summer 2020 evening when a man pointed a handgun at him, and demanded the car.
Kent said he was not afraid for his life. "What happens, happens," Kent said. He says his car was recovered a few days after the incident with no damages.
Nancy Rodriguez is an Oak Park resident whose husband was a victim of carjacking at gunpoint inside of their garage.
"It has been a very trying time for both my husband and myself," Rodriguez said. "After 46 years in our Oak Park home, the carjacking incident accelerated our move to Colorado."
"As far as we know, the felons have not been caught, and we have been left with the emotional and financial disruption caused by criminals," Rodriguez said.
Paul Kane, commander of investigations for the Oak Park Police department, said "I don't think Oak Park is unique in this … you can talk to all of Cook County."
"The Cook County sheriff along with the Chicago Police and some federal agencies, some of the suburban partners around here, have been using a task force to address the issue," he said.
Kane says the task force has "been very successful, because they're able to bring in different types of technology and equipment. For instance, the use of the helicopter in particular areas. And if a car takes off, the helicopter can follow the stolen car," Kane said.
Out of the 25 successful carjackings in Oak Park in 2021, 24 of the cars were recovered, and 13 incidents led to arrests. For comparison, the City of Chicago says only 5% of the 1415 carjackings inside of the city led to arrests during 2020. This discrepancy is likely due to Oak Park detectives having more time to trace down the assailants. Kane credits the high vehicle recovery rate and arrests to the diligence of the police detectives, as well as technology used to trace stolen vehicles.
"They have an extensive plate reading system in Chicago that involves some cameras that are on poles, cameras that are in cars. They have a variety of ways that the plates can be read," Kane said. "And because of that, there's a good chance that if the car goes into Chicago, at some point it will be picked up at one of those plate readers."
A recent proposal to install 20 new automatic license plate recognition cameras and the associated software inside of Oak Park came under controversy recently with over 54 public comments made at a meeting discussing the proposal. Many residents against the installation project voiced concerns over privacy and civil rights. Others were concerned over the potential for error in the software, and some stated the proposal went against the village's racial equity goals. Those favoring the proposal said the technology would help reduce the amount of carjackings and other crimes.
Kane says no incidents in Oak Park resulted in any major injuries, but some incidents outside of Oak Park have been more dangerous. "In Chicago they've had people fight for the car and been dragged," Kane said. "That's why I've been very happy working in Oak Park. Because the reality is, I think people listen. I just can't say that enough. It's a piece of property and you cannot replace your life," Kane said.
Twenty-four of the 29 incidents involved a gun. Kane said he believes that "a lot of them, they're buying guns off the street."
Kane said carjackings "generally involved more than one offender," and said a "substantial amount" of perpetrators were juveniles. Kane described four incidents which were tied using forensic evidence to one juvenile offender. The armed juvenile used Uber to lure victims. When asked whether the juvenile was carjacking just for fun, Kane said "it's a possibility, because it isn't like they were hanging on to the cars. They were taking them and leaving them to be recovered."
Sometimes assailants have come to Oak Park from other areas to commit carjackings. "A lot of times what happens is they will come to the area in a car and then they will take a car with them, although we have had a couple different incidents where offenders have taken the CTA in either a bus or a train and committed the crime and then left with a car," Kane said.
Kane has no idea why assailants commit carjackings. "I don't understand the methodology behind what the offender's thinking. Some of the things that were said in Chicago was the fact that video games might be contributing," Kane said.
Kane's remark was a reference to a proposition by Illinois State Representative Marcus Evans to ban the video game "Grand Theft Auto", a game in which carjackings play a central role. Evans said he believed "Grand Theft Auto" was getting into the minds of young people and causing some to commit carjackings.
There were 33 carjacking-related incidents in Oak Park from Jan. 1, 2021 to Feb. 15, 2022. Sixteen of the 33 victims were female and 17 were male. Twenty-six of 33 were over the age of 40. No victims were under the age of 20, and 61% of victims were non-residents. Kane said there were no particular areas of Oak Park with higher instances of carjackings.
Kane said residents could prevent carjackings by having "common sense" and staying alert. "Sitting at a red light on your phone, it gives people an opportunity to walk up and surprise you. They have to surprise you in order to commit the robbery. So we say be aware and keep your head on a swivel."
Kane wants to make sure every resident puts their safety first. "The car is property. That's what we have insurance for. You cannot replace your life. Your life is the most important thing. Give them what they want. Pay attention, get out, call the police as soon as you can," Kane said. 
Leave a Comment