Review: Camila Cabello's "Familia"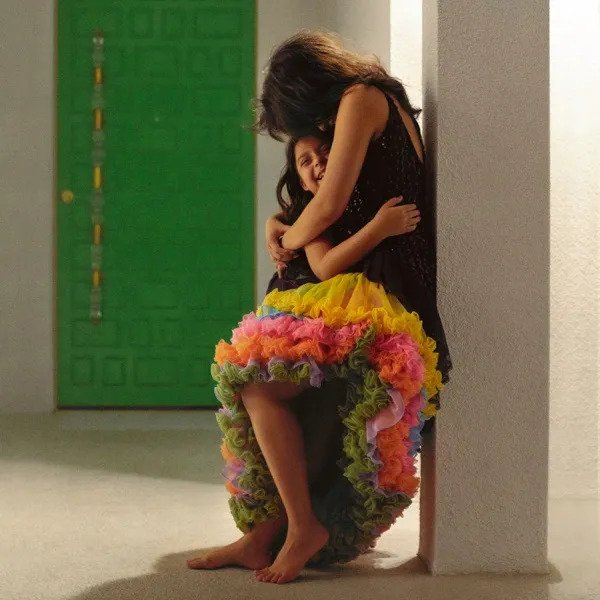 Camila Cabello released her third album "Familia" on April 8. The record is sonically similar to her first two albums, but more explicitly embraces her latin roots. However, it illustrates, but doesn't fully achieve, Cabello's potential.
The album comes in the aftermath of her 2021 breakup with singer Shawn Mendes and struggles with anxiety and OCD; both of these heavily influence the album.
While the individual tracks that made the album are good, the record as a whole feels a bit incomplete; its 11 songs cover a lot of musical styles and themes that could be fleshed out more.
"Celia," the first song on the album, is one of two sung entirely in Spanish. The track's mellow electric guitar makes you feel like you're at the beach. Lyrically, Cabello sings of falling in love and embraces her Cuban roots.
Cabello collaborates with WILLOW on "psychofreak," a catchy standout track sonically permeated by the anxiety its lyrics express. Cabello sings of feeling different than everyone else ("Maybe I'm an alien, earth is hard") and unworthy of love ("Tell me that you love me, are you lying?/Give me lemonade, I give you limes").
Following is the mellower but still-catchy "Bam Bam," a collaboration with Ed Sheeran and probably the best song on the album. In it, Cabello and Sheeran sing of getting "back on (their) feet" after a breakup. The track meshes sentiments of hurt and acceptance ("Así es la vida, sí/Yeah, that's just life, baby/I was barely standin', but now I'm dancin' ").
"La Buena Vida" expresses dissatisfaction with a lover always away for work ("I'm forgetting what it's like to wake up next to you"). With intense strings and urgent guitar, it paints a love on the brink of collapse ("Life is right now, you tend to forget it/Looking back, you're gonna regret it").
"Quiet," another standout track, is one of those songs that makes someone who's never dated believe in love. Seemingly set after the lover absent in "La Buena Vida" finally gets home, it carries a similar urgency ("But now your hands are touching my waist/In the back of the car, you just couldn't wait"). Even though Cabello is apprehensive, ("What if I'm damaged?/What if I'm just not who you imagined?") he puts her at peace ("My mind's/Made so much noise for so long and it's gone/'Cause when you kiss me it's quiet").
In "Boys Don't Cry," Cabello's understanding of anxiety and trauma is turned into empathy for a boyfriend dealing with the same pain but nervous to share it. ("It's not stupid, it's not drama/It's just trauma turned to armor"). The song is almost motherly in tone.
"Hasta Los Dientes," the other song sung in Spanish and a collaboration with Maria Becerra, sings of Cabello's pain knowing the person she loves has loved others in the past. Musically, the song has the same beach-like feel of "Celia" with a funky bass line and synthesizers added.
Cabello revives the musical anxiety expressed in "psychofreak" and the urgency in "La Buena Vida" in "No Doubt." The compelling track contrasts her paranoia ("Imagination has gone belligerent/Seeing red flags that don't even exist") with her sense of closure in love ("You take the psycho out of my brain").
Lead single "Don't Go Yet" brings a party feel to the album. The song is good but not as compelling as second single "Bam Bam" and her past hits like "Havana" and "Shameless."
The album turns away from themes of love and anxiety in "Lola." which chronicles a girl who finds her dreams crippled by poverty and hardship. ("Nobody breaks the ceiling/Nobody where she's from…"Nobody's listening so she won't speak"). The song gives a sense that it's too late; "Lola" is grown up and too busy dealing with day-to-day life to achieve what she dreamed of as a little girl.
The album abruptly shifts again to heartbreak and the aftermath of a failed relationship with "everyone at this party," a stripped back, somewhat unimpressive closer. ("Everyone at this party isn't you/Don't want to search for you in every room/But I always do").
The album overall isn't much more than the sum of its parts, but the parts are pretty good. While it is sonically cohesive with the possible exception of "psychofreak", "Quiet", and "Boys Don't Cry" (which are largely devoid of the rest of the album's latin feel), the album shows so much potential that it feels unjust to cut off the album at 34 minutes.
Leave a Comment