Jazz bands offer a swingin' good time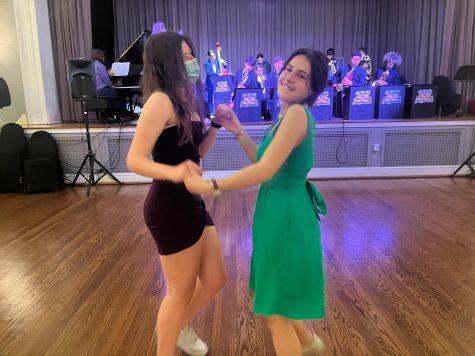 OPRF jazz bands' annual swing dance returned April 22 at the Nineteenth Century Club. Students and parents, all dressed to the nines, flew across the building's timeless ballroom floor, while OPRF musicians skillfully played classic dance tunes from artists such as Count Basie, Benny Goodman, and Artie Shaw.
The stage was set up in typical big-band fashion, with stylish musicians playing at standard boxy music stands. "It felt very '20s-jazz clubby," said senior Sofia Wheelock. "Everyone was dressed up in suits and nice dresses. It was pretty formal, but it felt very casual, if that makes sense."
"It was actually my first jazz concert ever, and I really enjoyed it, even though my hands were shaking and I admittedly messed up a few chords," said junior Michael Goto, who plays guitar for the Jazz Band II. "What matters is that the people enjoyed it. They danced to it and just had fun altogether. It felt excellent."
OPRF's two jazz bands played at the dance, so when one band was playing, members of the other band were able to watch and join in the chaotic dancing.
"When I was in the audience, it was utter mayhem," said Goto. "Not many of us knew how to swing dance, so we made up our own stuff as we went along."
At the beginning of the night, one student gave a short dance lesson instructing the audience in basic swing dancing; however, "a lot of people showed up after they did the dance lesson," said Wheelock. "So it wasn't very coordinated, but it seemed like everyone was having fun regardless."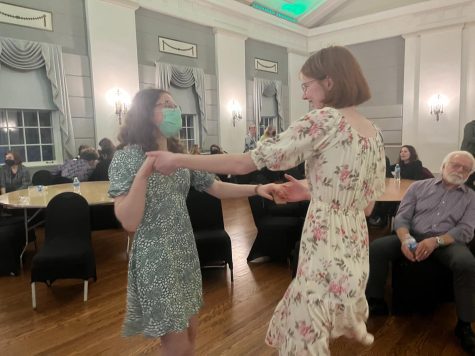 Students danced independently, in pairs, and in larger groups. Most people were stepping either side to side or back and forth, said Goto, standing up to demonstrate the basic dance moves. "There were occasional spins; the more daring did that. Every once in a while you'd see a kick line, (which) didn't exactly fit into the music, in my opinion." Audience members also formed a giant conga line during the song "Coconut Champagne."
"Usually at our performances (it's) mostly parents," said senior Tate Sherman, who plays the drum set for Jazz Ensemble. "There's not really a lot of students who come to watch us play. But (at the Swing Dance the) majority were students. I knew a lot of them so it was cool to talk to them and see what they thought about the music."
Students should "come out again next year," said Sherman. "It's awesome for the people who are playing when students are supporting."
"I just think the band did really great," said Wheelock. "It was really cool to see live music after (around) two years of not being able to. It was nice to see a lot of people I know come together to talk and dance and support our friends…It felt normal."
Jazz Band II and Jazz Ensemble will perform at Scoville Park on May 16.
Leave a Comment