"An Immaculate Conception": Student bands take over Val's Halla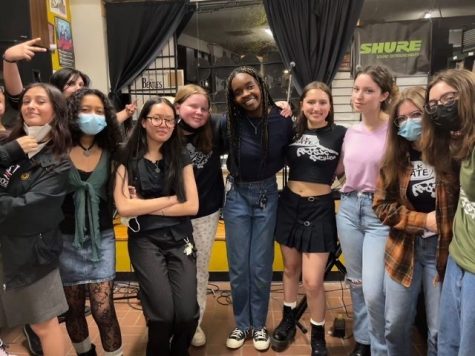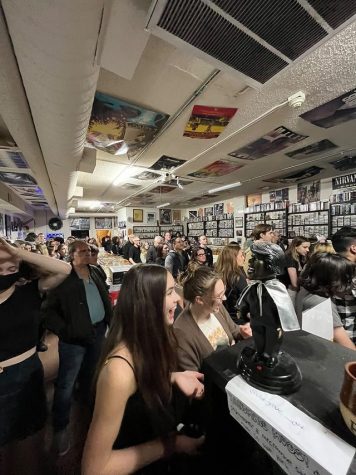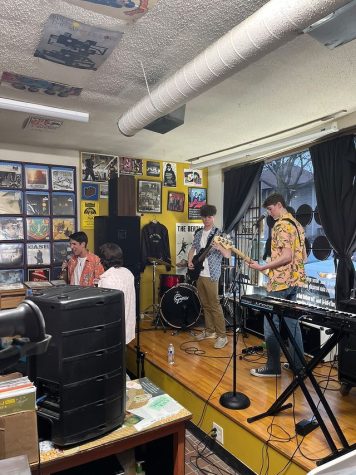 Students and parents filed into Oak Park's famous record shop, Val's Halla. Audience members stood shoulder to shoulder, crammed between aisles of crates holding well-loved records. Attendees sang along with and danced to the rock, pop, and indie music blasting from the speakers.
OPRF's Music Review Club, also known as Milk Crate, held a concert on April 29. The Dennies, CANNA SOUP, Run After Rain, and the Squeegees, all bands featuring OPRF students, performed to the supportive audience. All proceeds from the show, $421 in all, were donated to Step Up For Mental Health, an organization in the Chicagoland area. 
"As I walked in the door, I realized there's like 800 people," said senior Bella Nacke. The show was sold out with 100 guests. "So I'm standing there. I'm getting touched by all these random people…The energy's already really high even though nothing's happened yet."
Rock, pop, ska, funk, etc. cover band known as the Squeegees was first to perform. "They absolutely tore it up," said Nacke, a self-described longtime Squeegees fan. 
"It was a raucous performance," said senior Leo Huppke. "It was a stupendous way to kick off the energy of the show. The miracle of birth. An immaculate conception."
Members of the Squeegees choose songs to play by considering what they want to play and what the audience wants them to play. This became clear during the performance, when they made a last-minute change to their setlist to satisfy the audience's requests. 
"We had an original setlist where we were supposed to play Mr. Brightside," said Vedant Mundhra, drummer for the Squeegees. "But two or three members of the audience kept yelling 'Stacy's Mom,' and then more people joined in. We had practiced Stacy's Mom before, (so) we decided, let's give them Stacy's Mom."
Up next was alternative rock cover band Run After Rain. In the audience, a few girls supported their friend, the drummer of Run After Rain, by wearing shirts with her picture on it. 
"They absolutely knocked it out of the park," said Nacke. "That was such an exemplary performance. The energy was out of this world."
The next band to perform was the pop-rock coverband, CANNA SOUP. 
"'CANNA SOUP' was a really big hit, said Wami Osikanlu, co-president of Milk Crate. "They have a lot of friends that came."
CANNA SOUP's fan base accounted for a large portion of the audience, so after their name was announced swarms of high schoolers pushed their way forward to the front of the store.
"A bunch of people who were in the back pushed their way to the front," said Nacke. "I was like, 'what's happening?' I stepped aside because I didn't want to be touched by a kajillion people, but I had a really good time. I was head banging so hard."
The last band to perform was The Dennies, a punk band that performs original music. 
"The Dennies definitely stood out the most," said Osikanlu. "They were really high energy rock."
"A mini mosh pit started" during The Dennies's set, said Elena Anderson, co-president of Milk Crate. "That was a very high energy part of it."
"They were really good," said Nacke. "Those kids are really talented. They write all their own music…But it was really loud. I was head banging so hard that I got a little dizzy and almost passed out."
"It was nice to see everybody so happy with everything and it all came together great," said Osikanlu. "It was really great that we were able to donate (the money to Step Up For Mental Health). It literally went perfect…Nothing went wrong."
Catch Run After Rain, the Squeegees, and CANNA SOUP performing at St. Bernadine's school on May 27.
Leave a Comment