Spring awakening blooms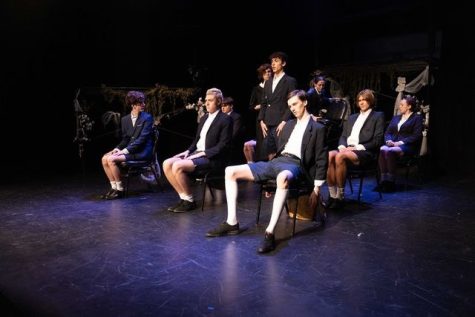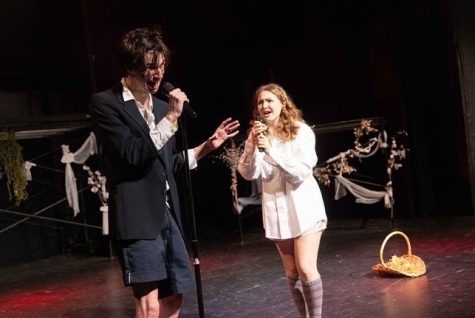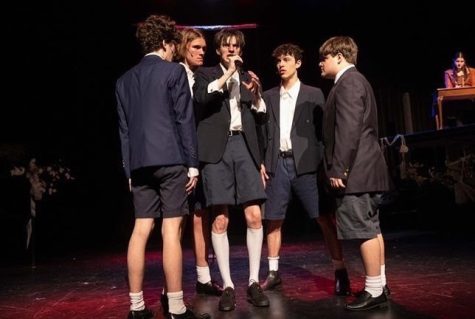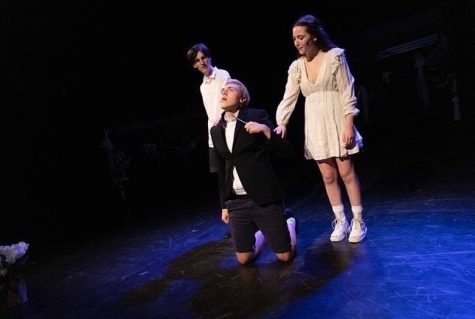 When the play Spring Awakening was first released to the public at the end of the 19th century, it was quickly banned. The 1891 play portrays the disastrous effects a sexually oppressive culture can have on teenagers and deals with issues like teen suicide, pregnancy, botched abortions, homosexuality, and abuse.
A century later, artists added songs to the original script, creating the iconic Tony-Award winning rock musical also known as Spring Awakening. Because of its "adult" themes, Spring Awakening is rarely performed by teenagers. However, high school students were able to participate in Ovation Academy's recent production of the musical. OPRF students directed and acted in the show, which was performed May 6 and 7 at Madison Street Theater.
"I saw Spring Awakening when I was 13 with my parents," said senior Vivian Murphy, who directed the show. "I immediately fell in love with the story, the characters, the themes. It's such a unique show; I had never seen anything like it before. I just knew I wanted to be part of the show somehow.
"Throughout high school, I had this unreachable dream of directing a high school production of Spring Awakening, because it's a show about teenagers and about adolescence. It's often performed by adults because it's so intense, but the show is about these kids. So I feel like it's only fitting to have people who are experiencing these things participate in it."
To tell the story she wanted to tell in a way that was appropriate for high schoolers, Murphy had to carefully edit the script. Most notably, a simulated sex scene in the script happened behind a white sheet and was more explicitly consensual than in the original production.
The production wasn't based on any other staging of the show, and every staging decision Murphy made had a meaning. For example, Murphy used platforms on the stage to portray the power struggle between adults and teenagers.
"My idea was to have the adults always staged on the platforms…so they're looming over the students," said Murphy. This way, the teenagers and adults "are not looking at each other." The use of levels "shows that dynamic of (adults') superiority and that they are always in control."
Teenage characters were occasionally staged on the platforms (during the sex scene and during the song "Totally F—ed") to demonstrate them doing adult acts and taking control.
"I love a little bit of symbolism," said Murphy.
Murphy, a member of the Sarah's Inn Youth Committee, had the idea to partner with domestic violence agency Sarah's Inn. The organization hosted talk back sessions after each show.
"I was worried that people would leave the show feeling very empty, with no solution (to the problems presented in the play)," said Murphy. "Because the topics the show covers are extremely triggering and very dark, I wanted to give people a space to talk about what they just saw and reflect on the show."
"Sessions included exploring the mature themes of the play, and creating a space for youth and adults to share and connect with each other," said Chidori Lively, Sarah's Inn prevention program supervisor.
"A lot of what these talk backs were for was to create a line of communication between parents and kids," said Murphy.
"The play touched on some senstive topics, such as abuse, incest, and suicide, it was important to the director that the audience have a chance to process what they've seen, as well as become connected to a local resources," said Lively. "The talk back sessions served as a debrief, but also as a space for adults and youth to listen to one another as they discuss a work that, though written in the 1890s, still somehow resonates with youth today."
In order to bring his character to life, senior Jack Berleman-Paul, who played the anxious and overwhelmed Moritz, "really embraced the similarities" between him and his character.
"Doing a show portraying someone who is basically my age was really impactful," said Berleman-Paul, "because everything felt so relatable and I feel like I really understood everything that happened to the character."
Berleman-Paul, whose character kills himself, said he had to be sure not to get too into his character and would "take breathers" off stage after performing the emotionally taxing material.
"Moritz's story happens too often," said Berleman-Paul. It was important to "show something that's not happy but has to be shown."
"Even though (the play) takes place in the 1890s, the themes are so relevant today, especially with the Roe v. Wade situation nowadays," said Murphy. "There's a whole plotline about unsafe abortions and how that can go terribly wrong. And at this time (it feels like), 'wow, we're really going back in time.'"
By tackling the show's difficult and important themes as a group of teenagers, the cast and directors of Spring Awakening were able to grow very close in the couple months it took to bring the show to life.
"I miss it already," said Berleman-Paul.
Leave a Comment