Covid cases on the rise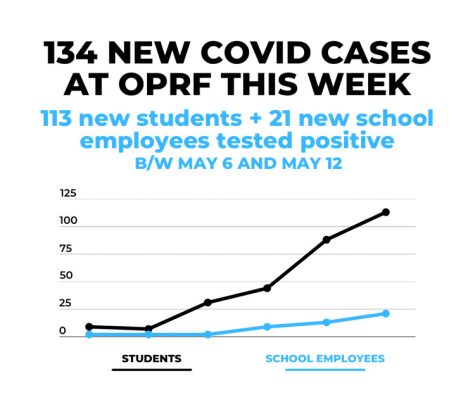 COVID-19 cases at OPRF are on the rise again, with 101 total reported positive tests in the school the week of May 2. 88 students and 13 employees tested positive for the virus that week. OPRF reported only one new COVID case the week of March 14, and seven student cases and two employee cases the week of April 11. As of May 10, the Cook County Department of Public Health reported 308 total COVID-19 cases and 5.7 hospitalizations per 100,000 people.
Per Center for Disease Control and Prevention (CDC), the uptick in cases has moved Cook County from the low (green) risk category to the medium (yellow) category. While no further action must be taken, Superintendent Greg Johnson said in a May 10 statement that some original safety measures OPRF has taken, such as designating a socially-distanced lunch space; allowing freshmen and sophomores to leave campus for lunch; and making voluntary saliva testing available to students will remain in place.
"We are encouraging staff and students to wear a mask when inside the building," Johnson wrote in the statement. As of Feb. 28, masks have remained optional for OPRF students and staff, previously deemed mandatory inside the building since the return to in-person learning in February 2021.
This COVID spike arrived as several celebrations for outgoing OPRF seniors are taking place, like prom May 14 and graduation May 28.
In another update on May 16, Johnson wrote that the school reported 113 new student cases and 21 new employee cases the week of May 6-12, adding that masks are now "strongly recommended" for students, staff, and visitors in the building. "We are less than two weeks away from our first normal graduation ceremony in three years," Johnson wrote. "Please help us do everything we can to keep our school community healthy and all of our Class of 2022 graduates able to attend their commencement."
Case numbers from senior prom have not yet been reported as of May 18.
Leave a Comment