OPRF welcomes new director of campus safety
As OPRF students enter through the main entrance each morning, they are greeted with a warm smile and a "hello!" from the new director of campus safety, Cherylynn Jones-McLeod.
McLeod started at Oak Park River Forest High School in 2019 as assistant director of campus security, and then changed her position to trauma interventionist. According to McLeod, she's done lots of work in alternative schools in Maryland, and is very passionate about youth development. Namely, The Accelerator Program and Success Academy.  She has worked with students who are sometimes older and need extra assistance as well as some previously incarcerated students returning to get their degree. 
McLeod has also done gun violence prevention work, and, in 2005, she started a non-profit organization called "Heels of Greatness." The nonprofit helps mentor girls by using fashion development to keep girls away from negative aspects of their communities. 
"I always wear sneakers because I'm everywhere," said McLeod.Among her responsibilities as director of campus safety, McLeod supervises 37 security officers and two other security management members. McLeod also partners with the local police and fire departments to prepare for drills and ensure building safety. She also works with other community institutions, like the Oak Park Public Library, The Park District, Oak Park Police and Oak Park Village to make sure students are safe and have access to resources and programs. McLeod acts as a community organizer. She is not employed by these community institutions, but believes connecting students to the resources they offer is a part of her job.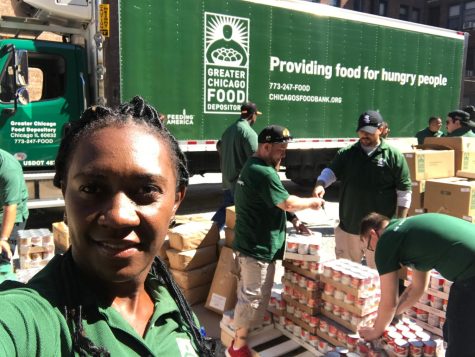 As the director of campus safety, McLeod is also responsible for improving existing security protocols. On Aug. 18 OPRF initiated a "secure and teach" during its eighth period. According to an email sent out by the school after the incident, the secure and teach was in response to an anonymous tip the school received alleging that a student in the building possibly had a weapon. The school determined the threat was not credible, and normal operations resumed at approximately 3:15 p.m. 
Many students were surprised and confused about the new term "secure and teach." McLeod says the change in terminology was decided over the summer. OPRF enlisted the consulting firm, Facilities Engineering Associates, to improve the school's emergency preparedness. The firm suggested that the term "secure and teach" be used instead of "soft lockdown." 
"When there's an alarm that goes off, everyones kind of on high alert. Sometimes when you hear soft lockdown, it gets confusing as to what to do, because there's different procedures for soft and hard lockdown," said McLeod.   
When students are in the building she wants them to feel as safe as possible, so they can learn efficiently. "My ultimate goal is for Oak Park to feel like Disney World; kind of hard to get into, but, once you're in, it's the greatest place on Earth," she said. "While (students and staff) are here, I don't want them to worry about safety. You can just do your thing." 
The new ID policy, which requires all students to wear their ID at all times, was implemented to ensure only authorized people can enter the building. McLeod emphasized making sure the right people are in the building is a crucial step in campus safety. Keeping potentially dangerous people from entering the building in the first place will make securing OPRF much easier and will create a safer environment. 
OPRF senior Owen Augustine believes the new ID policy is beneficial. "I like the new ID policy, because we did have some incidents last year where people were in the building when they shouldn't have been. I don't want anyone in the school who shouldn't be in the school," said Augustine. 
In her second year at OPRF, security officer Ashley Jones has seen a generally positive response from students to the policy. According to Jones, enforcing the policy is fairly simple: "I ask politely (when students don't have an ID on), sometimes students need a temp, I assist with that. Sometimes students don't have money for a new or temp ID, but, in fact, they don't need it, because it gets charged to their account." Each temp ID charges 50 cents to the OPRF student's account. A permanent ID costs $5. The ID policy has also been more successful as the school year has continued. "I think more and more students continue to wear them, and the rule is sinking in," said Jones.
New updated policies are also being considered for the future. "We are looking into additional safety features like a push notification so everyone can receive alerts if there is something happening in the building, particularly for students who are off campus for lunch," said McLeod.
Leave a Comment