OPRF PALS creates safe space for Asian students
As an Asian student, I felt lonely at first because I couldn't relate to a lot of people at school. Only a little more than 3 percent of Oak Park and River Forest Students identify as Asian. However, I eventually found a supportive community through the Pan Asian Leadership Society (PALS).
For the last three years, PALS has been an unofficial club sponsored by teachers Ellayne Watson and Michelle Zhang. This year, PALS was named an official club, which will help us spread the word and build a bigger community.
The official recognition is really big for the club, because for the past few years it's been a small space; not many people had heard about it. Since it was in the morning, PALS would bring in small crowds.
While there are other Asian-related clubs, such as the Chinese and Japanese clubs, they are often exclusive to their respective cultures. However, PALS aims to celebrate all Asian identities, to bring awareness to the multitude of Asian cultures in the world and to be a safe space for all Asian students.
The biggest thing we do is talk about our experiences within the school and what it's like being Asian students within OPRF. While the club is meant to provide a space for Asian students, we do have non-Asian participants. Everyone in attendance, Asian and non-Asian students alike, are educated on unfamiliar experiences and cultures.
Beyond education, community building is also a priority. We plan outings to Asian restaurants and communities (such as Chinatown and Argyle Street in Chicago) to celebrate our identity. Everyone is invited to join, whether you're Asian or an ally.
As a Korean American, I believe PALS is truly a wonderful club because it gives me a space to talk about Korean culture and how it's more than just K-pop and dramas. There are opportunities to tell others about fun holidays, like Chuseok, Seollal and more.
There are special dishes and customs that go with many Korean holidays, and there is also traditional Korean clothing that is special and holds a lot of meaning. We bring in foods to try, and we have plans to do a cook-off later in the semester to further show everyone what our dishes are like!
I get to learn how others observe their own traditions. Sharing my experience as an Asian within OPRF is something that I love.
PALS also gave me the chance to meet people. Now some of them are my closest friends because I got the opportunity to hang out with them outside of school.
This club helped me grow outside of my shell and be confident in myself because I was able to find people I had things in common with and was able to let myself be who I am.
Come join PALS on Tuesdays at 3:15 in room 3365!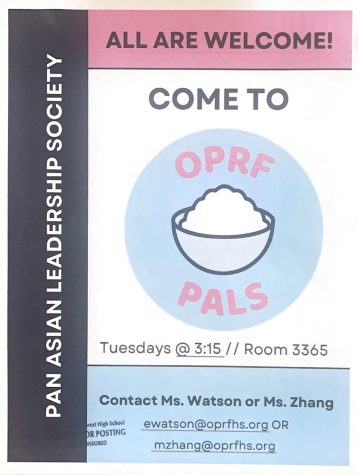 Leave a Comment