Pools prompt in-depth discussions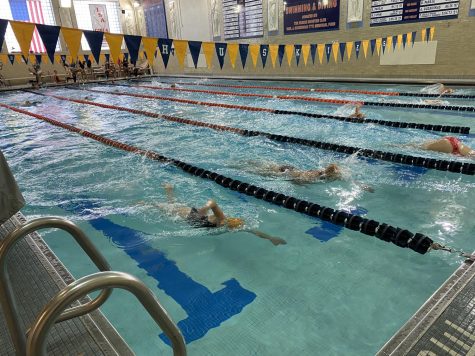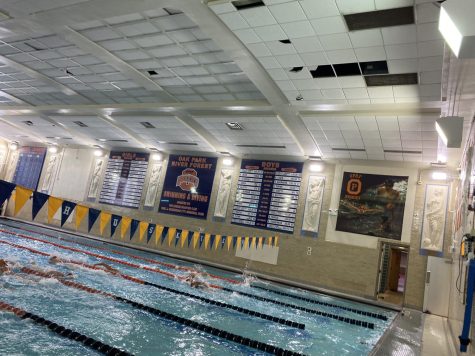 As OPRF works toward rebuilding its old and leaking pools, students and teachers who use the facilities agree on the urgency to make changes as soon as possible.
After nearly a century of having two functional pools at OPRF, the East Pool is now the only pool fit for swimming. The West pool is currently closed and under construction, due to an unstable deck and structural issues.
In 1928, the OPRF pools were built, giving past students up-to-date facilities, but in recent years the pools have reached a point where changes need to be made, given that their current state is unsafe for students.
A 25-by-40-yard pool would replace the two current pools under the second phase of OPRF's Facilities Master Plan, called Project 2, which calls for constructing a new four-story, five-level athletic wing on the building's southeast corner.
Project 2 also involves changes to PE facilities beyond the pools, such as changes to the locker rooms, gyms, classrooms and the Fieldhouse. At press time, Project 2 was awaiting approval from the District 200 Board of Education.
Elizabeth Hennessey, the District 200 bond consultant, estimated the cost of Project 2 at $90.5 million at a Community Finance Committee meeting in August. The project cost has yet to be confirmed. According to a Sept. 19 email from Ron Anderson, OPRF's executive director of operations, "Our architects are currently working on the updated estimate, so I won't be able to give you the updated estimate until they are done next month."
Brian Beyers, the division head for the Physical Education Department, acknowledged the issues with the current facilities but is excited for the opportunities Project 2 could bring to the PE experience at OPRF. "The reality is, the pools were built over 90 years ago," said Beyers. "I look at what we have currently and desire to do better by our students. The teachers are doing great with what we have, but I know that when we have better facilities, the student experience will greatly improve," he said.
Not all people of the community feel as though Project 2 is a worthwhile use of their tax money. Monica Sheehan, writing for the Wednesday Journal, said that "Hennessy's plan is undemocratic and disingenuous." Sheehan suggested putting "Project 2's funding on the ballot where it belongs.
Gwendolyn Keyes, a senior and captain of the OPRF girls swim team said, "It's really affected the amount of swimming we're getting in; We've only had one two-hour practice all season. Normally, it's every single day after school."
Keyes does not feel as if the girls swim team is currently being supported by OPRF, saying, "It's hard to see all these other teams with fields and facilities. While they all could still use some work, it is hard to see our team not having those same opportunities that a lot of other teams do."
"For instance, we do not have a diving well here, so the divers cannot dive at our school. They bus to either the Oak Park Country Club, Riverside Brookfield or Fenwick every day to have diving practice. I don't feel like that's fair to those divers," said Keyes.
Lars Rouch, an OPRF junior on the Varsity boys team, as well as a manager for the girls team, explained how only having one pool has greatly affected the swim program: "For (the) girls, it's very challenging because they have to split time between Varsity and JV. Obviously, they can't use the pool at the same time, so not having a west pool makes it a logistical challenge for the swimmers."
For swim meets, visiting schools also use the ORPF facilities, which barely have the capacity for OPRF teams, much less other teams as well, Rouch noted, adding that, "It's not just the pool, it's the field house and it's the locker rooms."
Clyde Lundgren, the varsity boys' and girls' swim and dive coach, said, "It's our turn to invest in future generations. We've been enjoying the investment of OPRF's leadership in the past decades, so we're standing on their shoulders."
"It wouldn't just benefit our school but also benefit the whole community," said Keyes, explaining how a safe and positive swimming environment is important to every OPRF student. "A big part of OPRF is athletics. All students are involved in gym classes; you have to take them all four years here," she said.
Keyes emphasized the necessity of having new facilities that can provide for the students. "It's really important that all kids learn how to swim," said Keyes, "and having a new pool would help with that."
In addition, Keyes said a lot of students feel uncomfortable getting in a pool that they consider "gross and dirty."
Emmett Harmon, a senior on the boys' swim team, explained how their locker room of one bay, three showers and peeling paint is constantly filled to the brim with swimmers. "There's more than 30 kids here at once… we've had four water polo teams' worth in here," said Harmon. "Our facilities feel outdated–like they're frozen in time."
Lundgren explained how updating the OPRF facilities would improve the school's reputation. "OPRF is a fantastic school, and in order for us to stay in contention with schools that we want to be compared to, then the facilities need some attention," he said.
"The OPRF swim team has made such a big impact on my life, and I'm so appreciative of all of it's given me," said Keyes. "I just want other girls to experience the same thing. A new pool would completely enhance the experience."
View Comments (3)