Boys' Soccer Continues Last Year's Success
Chants of "Golden Hammer! Golden Hammer!" erupted at the Oak Park River Forest Stadium on Tuesday, Sept. 6 as Junior Forward Easton Bogard confidently slotted the ball past the diving goalie to score against York High School, defending 3A state champions and conference opponents. Bogard earned his nickname "The Golden Hammer" for his previous 29 goal season. 
After finishing with one of their best records ever and making it to the Illinois High School Association 3A super sectionals last season, the varsity OPRF Boys' Soccer Team has no plans of stopping now. They return six starters with hopes that new additions will bring firepower to their defensive line. 
Last year, the team made it the furthest they've ever made it in the IHSA Class 3A State playoffs, knocking off the number 1 seed New Trier Township High School, and the number 3 seed Evanston Township High School on their way to their first Sectional Championship since 1996. They ended their season with a 19-4 record, losing 1-0 to William Fremd High School in the IHSA super sectionals, just one game away from making it to the State Series. 
This year, OPRF Head Boys' Soccer Coach Jason Fried and his team have their sights set on another deep playoff run, this time hoping to make it to the IHSA State Series in the beginning of November. "Our goal, in October, when the playoffs start, that's our best soccer," said Fried. 
To do this, they plan to keep it simple. "We use every practice to get a little better. That's it. Every game progress a little. When we don't, we identify why, and keep moving forward." Fried explained. 
This mindset has been adopted by the whole boy's soccer program. Coach Fried looks at JV1 as a "Varsity Reserves Team" preparing all of the players for the faster and more competitive varsity level. "They know they're playing for a spot next year, or even maybe this year," he said. Prime examples are juniors Diego Zarate and Ben Naber, who both played on JV1 last year. Since losing a majority of his defensive line due to graduation, Fried looks at these new, younger players to make an immediate impact, especially on the defensive side. 
After his previous 29 goal season, Bogard said he wants more. "I'm going to try to break the scoring and all time assist records," he said. The all time scoring record is 50 goals and the all time assist record is 32 according to Bogard. He loves the competitive atmosphere of the big games. "I don't shy from pressure. I always like to say pressure makes diamonds, and I think I'm a diamond. I invite the pressure," he said. 
As a 3 year returning varsity player, Bogard embraces his new role as one of the team leaders. "Last year I was the baby of the team. I could get away with being a little immature. But this year, I have to show and be a good example for everyone since it'll be my third year" he said. 
Other contributors include the three captains, senior Jaden Hsieh-Bailey, junior Charlie Maguire, and Senior Isaac Cummings, who all play in the midfield. Their experience and ability to control the midfield is what drives the team's composure and technicality. "We help each other a lot. We all have different strengths and weaknesses, both as players and as captains. We definitely have a lot of chemistry," said Cummings "A huge part of soccer is running the midfield, so the three of us being there as captains helps." 
OPRF has a tough regular season schedule before the playoffs even start.  They've already knocked off rival Fenwick with a 2-1 win on Sept. 2 and lost to conference opponent York, who are the reigning state champions. Lyons Township and Evanston are among strong contenders to give them a battle for the rest of the season."We have to understand that it's a process. There's always a bigger picture. You always want to win the game at hand. Although we lost, we understand what it takes to be really good." Bogard says when asked about their 2-1 loss against York on Tuesday, Sept. 6. 
Although they lost to York, the team sees these games in a positive light, better preparing them for the playoffs. Playing top teams allows them to grow as a team and identify where they need to improve. "We are really looking at it to get playoff experience. Good positive games for us no matter what the outcome is, we get better." Fried said.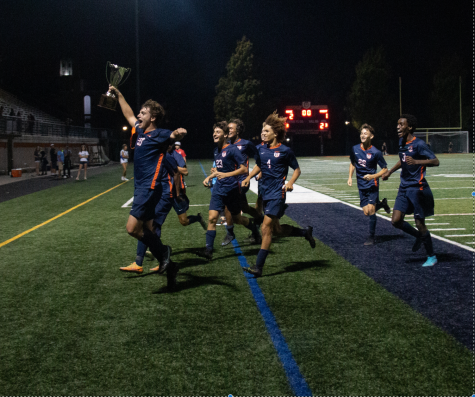 Leave a Comment