Girls' Flag Football off to Hot Start
This year, for the first time, girls can play flag football at Oak Park and River Forest High School. 
Although OPRF has had a boys' flag football team for the past 13 years, only this year has flag football become available to sophomore, junior, and senior girls as well. 
Girls' flag football is a free program funded by the National Football League, Nike, and the Chicago Bears charity, Bears Care. Not surprisingly, given its name, flag football has many similarities to American football. 
James Geovanes, the manager of both flag football teams, explained some differences between flag and American football: "It's a smaller field, and there's no tackling. Each participant will wear a flag belt, and then, once that flag falls off or is torn off, then the players are considered down by contact," he said.
Due to flag football's lack of tackling, it immediately becomes more appealing to many parents, but also to potential players who have heard horror stories from traditional football, according to Geovanes.  "With all due respect to traditional football, there's some parents out there who are nervous about head injuries," he said. 
The boys' team plays a six-week season, with a playoff game at the end. The new flag football league, which is just for girls, is working on becoming an official Illinois High School Association (IHSA) sport. 
The girls' team coach, Jean Corner–known as Tank to his players–explained more of this process. "This is probably going to be an IHSA sport in 2024, but, right now, it's a pilot program," Corner said. "IHSA will just sit back and watch how the program goes. Once they see that the programs are going well, they can make it an IHSA sport," he said. 
Flag football has taken off in recent years. It is expected that IHSA will approve the OPRF league to continue to grow the sport throughout all of Illinois.
 "It started with CPS (Chicago Public Schools) in 2019 with 12 teams, and it's blown up to 60," said Geovanes. "The turnout has been fantastic. We're looking to keep 30 participants, and we kept 30 plus a manager, so we were able to stay where we were. For our first year, we can't complain," he said.
The Chicago Bears hosted a Girls' Flag Football Jamboree on Aug. 27, which taught athletic skills, as well as increased a sense of community for the new OPRF team. 
Saniya Shotwell, a senior on the girls' flag football team, explained what this outing was like: "It was like 66 other teams there, and we scrimmaged two of them. And then, we ran drills perfecting skill work; how to throw a ball properly and work… on catching the ball. That was really fun because it really did help our team a lot," she said.
After a 26-0 win against Proviso West on Sep. 10, the team continued to gain confidence together and build a community. Taylor Smith, a junior on the team, said, "The game on Saturday was a team bonding thing. I think we're always gonna have each other's backs regardless because we are a team and we just want to see the best of each other and go to state."
"Right now they're looking pretty good. Some adjustments to make, but I think we're going to be fine, just like any other team," said Corner. "One game at a time, get to the playoffs, and then win state. That's our goal," he said. 
Corner, used to coaching boys, has also been given a new experience by coaching girls' flag football. "It's a little bit different, but it's fun. These girls work hard and listen. I'm proud of them. They want to learn," he said. 
"Some girls don't know about football, but that's what we're here for as coaches and teachers," explained Corner, "and to make sure they're not playing around and are getting down to serious business. We've got to dominate this game."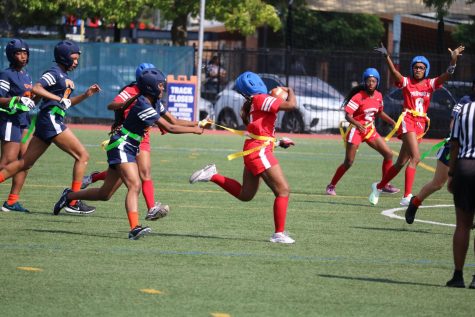 Leave a Comment